Inspired by his childhood Brooklyn neighborhood and named after the street he grew up on, Top Chef's Alex Resnick recently opened a new kosher restaurant, Ditmas Kitchen & Cocktails. Although it's named after his Brooklyn street, Ditmas Kitchen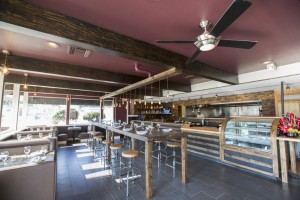 is located on W. Pico Boulevard in Los Angeles, and it sports a mixture of 2 identities: Casual & Refined. On one side, a bar with a long 20-foot communal table + bar stools. The other side boasts comfortable booths with white tablecloths in classic restaurant style. So what is it? A bar or a restaurant? It's both!
Ditmas' diverse, atypical Kosher fare includes a house-made pretzel with horseradish mustard, whitefish rillettes with house-made brioche, duck consommé with schmaltz matzo balls, and a 24-hour braised short rib with butternut squash polenta. We're drooling! Their drinks menu includes cocktails with seasonal fruits and craft beers.
Right now, Ditmas Kitchen & Cocktails is only open for dinner, and is under the kashrus supervision of Kehillah Kosher. Check them out on Facebook for some mouthwatering photos and up-to-date info!
Source: LA Eater