For those of you who just can't enough curry and think the rainy New York metro area's winter is no where near as exciting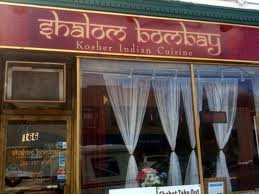 as a proper monsoon, you'll be pleased to hear that you can get an authentic taste of India at Shalom Bombay's new location in Teaneck, New Jersey! After closing two and a half years ago, we are excited to let you know that Shalom Bombay's Teaneck location has officially reopened!
Located in the heart of Teaneck on Cedar Lane, Shalom Bombay brings authentic Indian cuisine to the Teaneck kosher-keepers with everything from tandoori specialties (beef boti kebab, chicken reshmi kebab) to different flavors of na'an (garlic, keema) and of course, basmati rice.
For a unique Indian dining experience minus the cost of a plane ticket to Mumbai, all you need is a hearty appetite and an open mind and Shalom Bombay provides the rest!
Shalom Bombay-Teaneck is under the hashgacha of the RCBC.