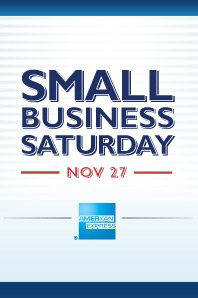 Yes, I know that November 27th is a Shabbat. But that doesn't prevent us from going out Saturday night and supporting your local Jewish small business owner by eating at your favorite Kosher restaurant.
Here's the deal:
On the Saturday after Thanksgiving (the day after the "Black Friday" shopping holiday bonanza), American Express wants us to infuse our favorite small businesses with some capital.
American Express is giving a $25 statement credit to 100,000 Cardmembers who register their Card and use it at a small business on Small Business Saturday.
If you have an AMEX card, register your card by clicking here to receive the credit.
If you don't have an AMEX card, think might be a good opportunity to do so. As a traveler, I recommend the Starwood card. Email me and I'll send you a referral link.
If you're a small business owner, you should sign up to participate in the program, and receive $100 in free Facebook ads from AMEX. And for the small business owners, I highly recommend the AMEX card. Let me know if you want me to send you a referral email for the card, you'll receive 10-15,000 points just to start your account.
~Dani
Which Kosher Restaurant are you going to support on Small Business Saturday?