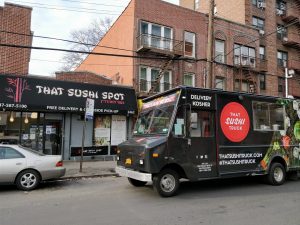 A new kosher food truck is rolling around the Metro New York area, brought to you by That Sushi Spot. That Sushi Truck is making stops throughout Manhattan, and recently started visiting Brooklyn.
Their menu offers sushi rolls: California, spicy crunchy tuna, Alaskan, avocado, tempura sweet potato, and cucumber.
Three different varieties of sushi burritos are available. The Thai (spicy crunchy tuna, jalapeno, crunchy salmon skin, carrot, and cucumber), the Samurai (grilled salmon, sweet potato tempura, portobello mushrooms), and the Health Nut (salmon, tuna, avocado, cucumber, soy paper).
Other dishes include edamame, soup, salads, and bowls.
Hours and location vary. Check their facebook page for exact details.
That Sushi Truck is kosher certified by Kehillah Kashrus.