After many weeks of compiling the list, which is never finished, we bring to you the ultimate guide to kosher restaurants open on Chol Hamoed Pesach.
This list is something that takes a long time to compile, and a lot of sources (including many you) make it happen.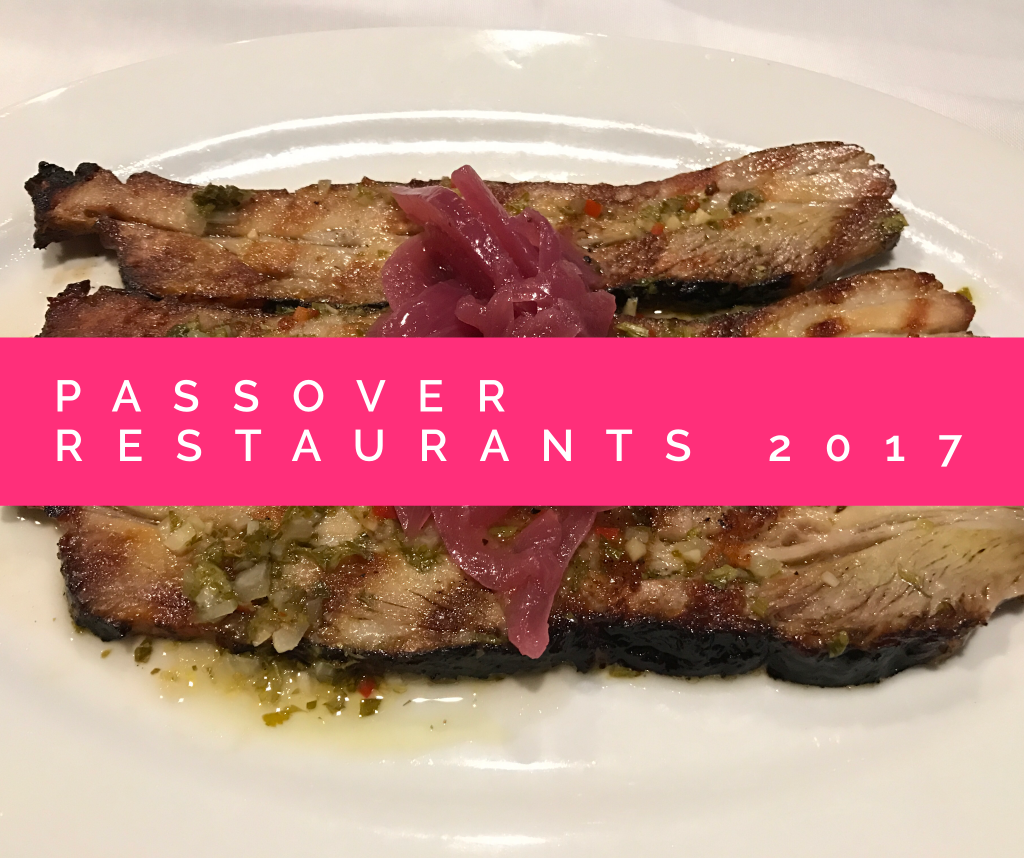 The same rules apply to what I stated last year, so I will repeat it:
Before diving into the list below, please note the following:
We will be continuously updating this list through the first days of chol hamoed (obviously not on chag), so check back and refresh this page.
If you use an ad-blocker, we ask you kindly to turn it off for our website. Just allowing ads to appear will allow us to earn revenue for our hard work compiling information for you.
All restaurants are kitniyot-free (outside of Israel), unless stated otherwise.
It is highly advisable to call in advance to verify the hours of operation as well as making a reservation (if possible), as many of these restaurants will be in high demand!
We recommend using the Chase Sapphire Preferred card (or the Chase Sapphire Reserve) at all restaurants (globally) which earns you 2x points at all restaurants (and travel) purchases, with no foreign transaction fees. Read more about the card here. (Disclosure: We may earn referrals from some of the links here, which helps support this site.) 
The following list is not a recommendation of the restaurant or its kosher certification.
To receive our email updates about kosher restaurants and kosher travel tips & advice, subscribe here.
The 100+ restaurants below are organized geographically and alphabetically by Country, State, City, and Restaurant Name (in that order). The current list includes restaurants across the US, Canada, UK, Israel, South Africa, France, Italy, and Australia. More coming soon.
>> CLICK HERE TO SUBSCRIBE AND MAKE SURE YOU RECEIVE POSTS LIKE THESE IN THE FUTURE <<
If there are any restaurants missing from this list, please comment below and it will be added. Thank you!  (PS – On a smartphone, this list is easier to read if you tilt the phone sideways)
| | | | | | |
| --- | --- | --- | --- | --- | --- |
| Restaurant Name | City | State | Country | Kitniyot? (if known) | Menu/Rez |
| Mandelbaum House (Univ. of Sydney) | Sydney | NSW | Australia | | |
| My Zaidy's Bakery | Thornhill | ON | Canada | | |
| 126 | Paris | | France | | |
| Bistro 85 | Paris | | France | | |
| Heat | Paris | | France | | |
| Japan Eat | Paris | | France | | |
| Le Manathan | Paris | | France | | |
| Ma poule aux oeufs d'or | Paris | | France | | |
| Neuilly traiteur | Paris | | France | | |
| Restaurant Einstein | Munich | | Germany | | Menu |
| Hanna Orthodox Glatt Kosher Restaurant | Budapest | | Hungary | | |
| Cafe Cafe | (ALL BRANCHES) | | Israel | | |
| Cafe Joe | (ALL BRANCHES) | | Israel | | |
| Lechem Basar | Ashdod | | Israel | | |
| Sinta | Ashdod | | Israel | | |
| Ben Ezra Fish | Atlit | | Israel | Non-kitniyot | |
| Lechem Basar | Bnei Brak | | Israel | | |
| Aresto | Caesarea | | Israel | | |
| Koya | Caesarea | | Israel | | |
| Ranch House | Eilat | | Israel | Non-kitniyot | |
| El Gaucho | Haifa | | Israel | Non-Kitniyot | |
| Bistro56 | Herzilya Pituach | | Israel | Non-kitniyot | |
| Fresh Kitchen | Herzilya Pituach | | Israel | Non-kitniyot | |
| Papagaio | Herzilya Pituach | | Israel | Non-kitniyot | |
| 1868 | Jerusalem | | Israel | Non-kitniyot | |
| Atza Sushi Bar | Jerusalem | | Israel | | |
| Ben Ami | Jerusalem | | Israel | Non-Kitniyot | |
| Black | Jerusalem | | Israel | Non-Kitniyot | |
| Corky | Jerusalem | | Israel | | |
| Eucalyptus | Jerusalem | | Israel | | |
| Gabriel | Jerusalem | | Israel | Non-kitniyot | |
| Greg Cafe (Cinema City) | Jerusalem | | Israel | Non-kitniyot | |
| Greg Cafe (Mamila Mall) | Jerusalem | | Israel | Non-kitniyot | |
| Grill Bar | Jerusalem | | Israel | | |
| Hechatzer | Jerusalem | | Israel | | |
| Jacko's Street | Jerusalem | | Israel | Non-Kitniyot | |
| Joy Meat In | Jerusalem | | Israel | Non-Kitniyot | |
| Kaffit (Emek) | Jerusalem | | Israel | | |
| Kaffit (Malcha) | Jerusalem | | Israel | | |
| Kaffit (Mamilla) | Jerusalem | | Israel | | |
| Kedma | Jerusalem | | Israel | Non-Kitniyot | |
| La Boca | Jerusalem | | Israel | Non-Kitniyot | |
| La Primavera | Jerusalem | | Israel | | |
| Lechem Basar | Jerusalem | | Israel | | |
| Luciana Mamila | Jerusalem | | Israel | Non-Kitniyot | |
| Luigi Katamon | Jerusalem | | Israel | Non-Kitniyot | |
| Mamilla Hotel Rooftop Restaurant | Jerusalem | | Israel | | |
| Medita | Jerusalem | | Israel | | |
| Meyuchas | Jerusalem | | Israel | | |
| Mike's Place | Jerusalem | | Israel | Non-Kitniyot | |
| Mirror Bar | Jerusalem | | Israel | | |
| Papagaio (Talpiot) | Jerusalem | | Israel | Non-Kitniyot | |
| Pizza Hut (All branches in the city) | Jerusalem | | Israel | Kitniyot | |
| Pompidou | Jerusalem | | Israel | Non-Kitniyot | |
| Richotta | Jerusalem | | Israel | | |
| Rimon | Jerusalem | | Israel | | |
| Rodriguez | Jerusalem | | Israel | | |
| Roza | Jerusalem | | Israel | | |
| Roza | Jerusalem | | Israel | | |
| Roza Moshava | Jerusalem | | Israel | | |
| Sofia (Inbal Hotel) | Jerusalem | | Israel | Non-Kitniyot | |
| Sushi Rechavia | Jerusalem | | Israel | | |
| Tzipora Express | Jerusalem | | Israel | | |
| Village Green | Jerusalem | | Israel | Non-Kitniyot | |
| Village Green Vegan | Jerusalem | | Israel | | |
| Waffle Factory (Cinema City) | Jerusalem | | Israel | | |
| Waffle Factory (Emek) | Jerusalem | | Israel | | |
| Zuta | Jerusalem | | Israel | | |
| Haroeh BaCafe | Kfar Haroeh (Hadera) | | Israel | Non-kitniyot | |
| Nagisa Sushi | Kfar Saba | | Israel | Kitniyot | |
| Esh Besh | Kiryat Shmoneh | | Israel | | |
| Aroma Cafe (Moriah Center) | Modi'in | | Israel | Kitniyot | |
| English Cake | Modi'in | | Israel | Non-Kitniyot | |
| Gelarte | Modi'in | | Israel | Kitniyot | |
| Grill 443 | Modi'in | | Israel | | |
| Kampai Street Wok | Modi'in | | Israel | Kitniyot | |
| La Pecan | Modi'in | | Israel | Kitniyot | |
| Ma'afe Ne'eman | Modi'in | | Israel | Non-Kitniyot | |
| Michalis | Modi'in | | Israel | | |
| Oshi Oshi | Modi'in | | Israel | Kitniyot | |
| Picansin | Modi'in | | Israel | Kitniyot | |
| Pinati Azrieli | Modi'in | | Israel | Kitniyot | |
| Roladin Cafe | Modi'in | | Israel | Kitniyot | |
| Roza – Bar & Meat Restaurant | Modi'in | | Israel | Kitniyot | |
| Sheitel | Nahariya | | Israel | | |
| Beef Bar Steak House | Netanya | | Israel | | |
| Chooka Asian Kitchen | Netanya | | Israel | | |
| El Gaucho | Netanya | | Israel | Non-kitniyot | |
| Fargo Pizzeria | Netanya | | Israel | | |
| Kitchen Bar | Netanya | | Israel | | |
| Lechem Basar | Netanya | | Israel | | |
| Ma'afeh Ne'eman | Netanya | | Israel | | |
| Mifgash Ir Yamim | Netanya | | Israel | | |
| Red Burger Bar | Netanya | | Israel | | |
| Rosemarin | Netanya | | Israel | Non-Kitniyot | |
| Schnitzelia Concept | Netanya | | Israel | | |
| Vick's and Chips | Netanya | | Israel | | |
| Yorgos | Netanya | | Israel | | |
| Black Bar n Burger | Petach Tikva | | Israel | Non-kitniyot | |
| Cafe Neto | Petach Tikva | | Israel | Non-kitniyot | |
| Air Caffe | Ra'anana | | Israel | Non-kitniyot | |
| Borochov 88 | Ra'anana | | Israel | Non-kitniyot | |
| Brenner Wine Bar | Ra'anana | | Israel | | |
| Cafe Neto | Ra'anana | | Israel | | |
| Panko | Ra'anana | | Israel | | |
| River | Ra'anana | | Israel | | |
| Blackstone | Ramat Gan | | Israel | | |
| El Gaucho | Ramat Gan | | Israel | Non-kitniyot | |
| Sumesa | Ramat Gan | | Israel | | |
| Aroma | Rechovot | | Israel | | |
| Gehalim | Rechovot | | Israel | | |
| Paperdilla | Rechovot | | Israel | | |
| Hatzok | Rosh Hanikra | | Israel | | |
| 99 Hayarkon | Tel Aviv | | Israel | Non-kitniyot | |
| Alternativ | Tel Aviv | | Israel | | |
| Armando | Tel Aviv | | Israel | | |
| Atza | Tel Aviv | | Israel | | |
| Aubergine | Tel Aviv | | Israel | | |
| Black | Tel Aviv | | Israel | | |
| Blackstone | Tel Aviv | | Israel | | |
| Blue Sky | Tel Aviv | | Israel | | |
| Canaan | Tel Aviv | | Israel | | |
| Caspi | Tel Aviv | | Israel | | |
| D-Brasserie | Tel Aviv | | Israel | | |
| Deca | Tel Aviv | | Israel | | |
| Derby Bar | Tel Aviv | | Israel | | |
| Fresh Kitchen | Tel Aviv | | Israel | | |
| Goshen | Tel Aviv | | Israel | | |
| Hungarian Blintzes | Tel Aviv | | Israel | Non-kitniyot | |
| L'entrecote | Tel Aviv | | Israel | | |
| La Lasagna | Tel Aviv | | Israel | | |
| Lechem Basar | Tel Aviv | | Israel | | |
| Liliyot | Tel Aviv | | Israel | Non-kitniyot | |
| Lilli 24 | Tel Aviv | | Israel | Non-kitniyot | |
| Lumina | Tel Aviv | | Israel | | |
| Matsuya | Tel Aviv | | Israel | | |
| Mifgash HaSteak | Tel Aviv | | Israel | | |
| Nini Hachi | Tel Aviv | | Israel | Kitniyot | |
| Olive Leaf | Tel Aviv | | Israel | | |
| Oshi Oshi | Tel Aviv | | Israel | | |
| Pankina | Tel Aviv | | Israel | | |
| Paradiso Sarona Cafe | Tel Aviv | | Israel | | |
| Pasha | Tel Aviv | | Israel | | |
| Pick n Roll | Tel Aviv | | Israel | | |
| Punch Line | Tel Aviv | | Israel | | |
| Regina | Tel Aviv | | Israel | | |
| Rochelle | Tel Aviv | | Israel | | |
| West Side | Tel Aviv | | Israel | | |
| Yarkon 99 | Tel Aviv | | Israel | | |
| Caffe Yaffo | Yaffo | | Israel | | |
| Dr. Shakshuka | Yaffo | | Israel | | |
| Casa Barone | Zichron Yaakov | | Israel | Non-kitniyot | |
| Ghimel Garden | Venice | | Italy | | Menu |
| Red Heifer by Kosher Luxus | Cancun | | Mexico | | Reservations Required |
| Avron's Place | Cape Town | | South Africa | | |
| Delicious 2 Go | Johannesburg | | South Africa | | |
| Pop-Up @ Mill Hill United Synagogue (4/13 only) | London | England | UK | | Reservations |
| Mexikosher | Los Angeles | CA | USA | | |
| Soupergirl (Dupont Circle) | Washington | DC | USA | | Menu |
| Soupergirl (Takoma) | Washington | DC | USA | | Menu |
| White Hall Miami | Sunny Isles Beach | FL | USA | | |
| Kosher Korner stand @ Marlins Park | Miami | FL | USA | | |
| Grill House | Miami Beach | FL | USA | | |
| Rare | Miami Beach | FL | USA | | |
| Backyard BBQ | Surfside | FL | USA | | |
| Kosh | Surfside | FL | USA | | |
| Kosher Cajun | New Orleans | LA | USA | | |
| Kosher Grille @ Camden Yards | Baltimore | MD | USA | | |
| Hillel at Washington University | St. Louis | MO | USA | | Reservations |
| Urban Pops | Deal | NJ | USA | | |
| Teaneck Doghouse | Teaneck | NJ | USA | | |
| Blueberry Cafe | Brooklyn | NY | USA | | Menu |
| Crawfords Cafe | Brooklyn | NY | USA | | Menu |
| Masbia of Borough Park | Brooklyn | NY | USA | | RSVP required |
| Shuey's Deli & Grill | Brooklyn | NY | USA | | |
| Urban Pops | Brooklyn | NY | USA | | |
| Berrylicious | Cedarhurst | NY | USA | | |
| Cafe Chocolat | Cedarhurst | NY | USA | | |
| Berrylicious | Flushing | NY | USA | | |
| MeO Japanese Hibachi | Fresh Meadows | NY | USA | | |
| Colbeh | Great Neck | NY | USA | | |
| Bedford on Park | New York | NY | USA | | |
| Colbeh | New York | NY | USA | | |
| Eighteen | New York | NY | USA | | Menu |
| Le Marais | New York | NY | USA | | Menu |
| Mendy's (34th st) | New York | NY | USA | | |
| Mendy's (Rockefeller Center) | New York | NY | USA | | |
| Mr. Broadway | New York | NY | USA | | Menu |
| My Most Favorite Food | New York | NY | USA | | |
| Prime Grill | New York | NY | USA | | |
| Screme Gelato Bar | New York | NY | USA | | |
| Talia's Steakhouse | New York | NY | USA | | Menu |
| Colbeh | Roslyn | NY | USA | | |
| University of Pennsylvania Hillel | Philadelphia | PA | USA | | |
| Adamah Neighborhood Table | Madison | WI | USA | | Reservations |