There's a new kosherbreakfast spot in Rochester — and perfect for those who like breakfast for any meal of the day. Harvest Eatery is located in the Louis S. Wolk JCC of Greater Rochester.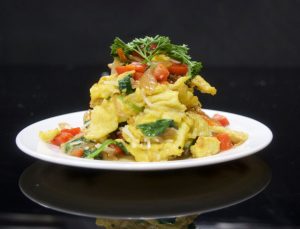 The menu offers everything from paninis to salads to bagels and bowls. Three hot items on the menu so far are the Tuna Melt (tuna, cheddar, arugula on sourdough), Moroccan Salad (chick peas, dates, beets, peppers, cranberries, walnuts, romaine, spinach, with lemon herb vinaigrette), and the JCC Breakfast Wrap (scrambled eggs, hash browns, cheddar cheese, and salsa).
Kids can enjoy scrambled eggs, cheese quesadillas, bagel with cream cheese, or carrot and cucumber sticks with hummus.
Those on the run can pick up bagels, Chobani yogurts, fruits, chips, granola bars, cereal, cookies, nuts, and pretzels.
The beverage menu offers just as much. Customers can order all different types of coffee, lattes, frappes, teas, juices, and smoothies.
Hours of operation are Monday-Thursday 6:30am-8pm, Friday 6:30am-2pm, and Sunday 8am-8pm.
Harvest Eatery is certified by the BVK (Buffalo Vaad Hakashrus).