When it was recently announced that Reserve Cut would be participating in NYC's Restaurant Week, the first kosher restaurant to participate in at least a decade or longer, the excitement from the Jewish community was euphoric. It was the second most popular article of the year on YeahThatsKosher.com (after our Pesach restaurant list) and the most popular post shared form our Facebook page:
Then last week we shared the menu, and while many were still excited, many were complaining about the small portions and limited options for the $29/meal promotional lunch.
So let's set a few things straight: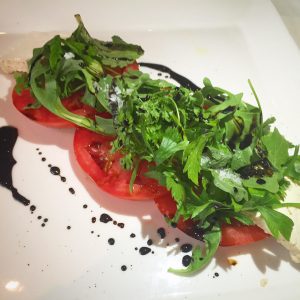 Reserve Cut is the fanciest and most expensive kosher restaurant in NYC, possibly in the world. It is unaffordable for large swaths of the kosher observant population, which is understandable. Heck, I spent $300 on my anniversary dinner with my wife, which is significantly more than what we spend on a nice meal out, but I'm not complaining, that was a great meal.
NYC Restaurant Week is a promotional time period, no longer a week, it now lasts for about 3 weeks. The purpose is for NYers to be able to check out high-end restaurants with a prix fixe pricing, $29 for lunch, $42 for dinner. For expensive restaurants where meals costs 2-4x that, diners get a treat to go out and try restaurants that they would normally not be able to afford.
So it is understandable that kosher restaurants who already have higher overhead than non-kosher ones would balk at the idea of a lower fixed price meal. Most would not break even. I'm not confident that Reserve Cut is breaking even unless people are drinking wine or beer with every meal, and that is not likely the case.
However, most of these restaurants see it as a marketing investment, to have diners who would normally not come for a meal, come and check out the full experience. Lo and behold, we are talking about Reserve Cut so from a marketing & PR perspective, it's been successful thus far.
So with keeping this in mind, I think it is fair that as long as you don't leave the meal hungry, and you enjoyed the food, let's leave the criticism of the menu until after you've tried it.
My experience:
I sat down for the first lunch of their Restaurant Week promotion which advertised a 3 course meal with 3 options for apps, mains, and 2 options at dessert. I went with 2 buddies and we decided to split everything, so we were able to taste everything on the promotional menu.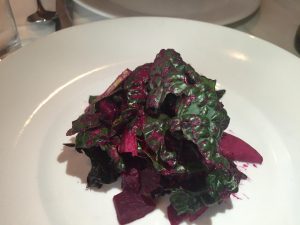 The appetizers:
Warm Corn Soup – this was a sweet, citrusy, and flavorful soup. Even if you don't enjoy corn soup or corn chowder, this was different and worth trying.
Heirloom Tomato & Herb Salad – this was accompanied by smoked tofu and a balsamic reduction, and while I would typically shy away from balsamic dressings, it was not overpowering, and the herbs was really the star of the salad here. Overall it was good, but my least favorite course of the meal.
Kale Waldorf Salad – kale, granny smith apple, walnuts, beets and a beet dressing. This was a heartier salad that felt like an appropriate precursor to the meal.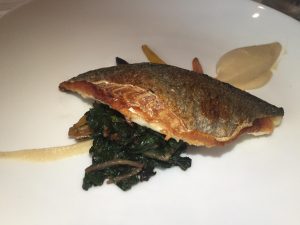 Favorite app: The corn soup.
The main courses:
Pan Seared Dorade – served with summer carrots, spinach gratin, and celery root puree, the fish was savory and tasty and paired well with the puree. The carrots were ok and needed seasoning, but the spinach was good and it was otherwise a good overall dish.
Filet Mignon (5oz) – served with sweet garlic puree, pommes dauphine (little balls of fried mashed potato), and summer squash. The steak was perfectly cooked and delicious. My only complaint is that I wanted more.
The puree and the potatoes were also delicious, and I could've lived without the summer squash.
Fennel Pesto Linguini – served with sundried tomato and shaved fennel. I normally dislike the taste of fennel / licorice, but on this dish the fennel pesto was light and quite good, definitely not overpowering or offensive, which fennel can be. A very unique pasta dish that was entirely pareve, and something I've never had before.

Favorite main: toss up between the Filet Mignon & the Fennel Pesto pasta. Both were excellent.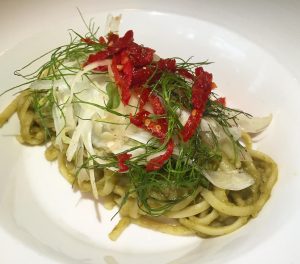 The desserts:
Chef's Selection of Summer Sorbet – so we had no idea what we were getting here before we ordered it. What arrived was a little delicious adventure: two mystery sorbets accompanied by an elephant ear cookie. One of the sorbets was obviously coconut, which was perfect. The other was quite good, but none of us were able to guess the flavor. I thought it was pear or passion fruit. The waiter revealed that it was a tamarind sorbet! So different.
Chocolate Decadence – chocolate ganache over crispy rice and orange spread served with balsamic brown sugar ice cream. I enjoyed the chocolate ganache, rice, and orange. I did not enjoy the ice cream which was overly sweet and not to my liking (again, I don't like balsamic).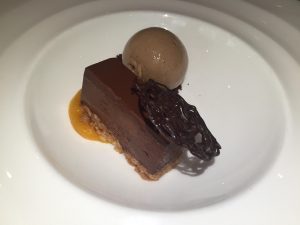 Favorite dessert: Summer sorbets. Perfect for a hot day like today.
Served along with a couple portions of their house bread, the three of us left satiated. We weren't overly stuffed, but we were all different sized men, and we were all full. So, if you're concerned that you'll have a $30+ meal (after tax & tip) and leave hungry, most of you won't. It's worth checking out, especially if a typical meal at Reserve Cut is unaffordable to you. You'll get to experience the nicest restaurant with the best service any kosher restaurant has to offer in NYC.
Note: From what I was told, the menu may change for weeks 2 and 3 of the Restaurant Week promo. Keep your eyes peeled for additional menus.