Brooklyn is getting its very own kosher sports bar & grill. Halftime Grill is a family friend restaurant fully equipped with 10 TVs and an 150 inch projector perfectly geared for sports fans.
The official opening is schedule for this coming Monday, April 18th. (See image below for details) 
Customers will be able to build their own burgers and enjoy mixed drinks and an array of beers at the bar. Other menu items include wings, steak, crispy chicken sandwiches, jalapeño poppers stuffed with meat, sliders, and more.
Additionally, the restaurant has added a "beer garden" behind the restaurant, with 500 sq ft of space to seat customers looking to enjoy some food or drinks outside.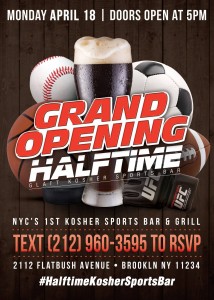 Hours of operation are Sunday-Thursday 12pm-2am, and Saturdays from 9pm-1am.
Kosher supervision for Halftime Grill is the OK.
More details coming later this week.