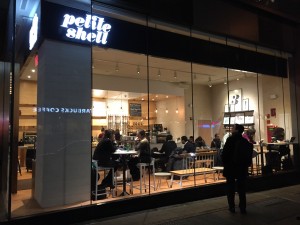 The owners at Petite Shell (P/S) invited YeahThatsKosher over to have a taste and check out their unique cafe before their official opening this week — although between you and me, it's already open — GO!
I have to say that as a member of the kosher media, I was treated to a tasting of a smattering of what they had to offer earlier this evening, and there was not a single thing I tasted that wasn't amazing. It's not often that I can say this, but literally everything I tasted I can recommend to you.
The great thing about Petite Shell's offerings is that many of them have not been done before, and if they have, they perfected it. Until now, Marzipan Bakery in Jerusalem was my favorite purveyor of rugelach. Petite Shell offers a VERY different product, but equally awesome.
There are, however, a few major differences between P/S & Marzipan:
The flavors offered at Marzipan are mainly chocolate and cinnamon (although everyone knows that their chocolate rugelach are what people dream about), whereas Petite Shell's flavors are exotic, many include cheese (not Cholov Yisroel, sorry), nuts, fruit, including 3 savory flavors!
P/S is a full fledged cafe with some of the best brewed coffee in the city. They do a Japanese cold brew iced coffee which is something you will not find at the majority of cafes in the city. Besides that fact, there's also ample seating (granted it's not a large place, but enough seating), wifi, and a beautiful "post-anti-modern" design aesthetic (according to the owner) to the eatery. Not quite comparable to the Marzipan Bakery. Very different experience.
Pricing – at Marzipan you could buy a kilo (~2lbs) of rugelach for 20₪ (~$5+), and Petite Shell's artizan rugelach will cost you $2.50 for one, $25 for a dozen. That's prime Upper East Side pricing right there, but it is definitely worth it. (Whereas the $25 burger being charged by this Queens restaurant, is not)
Here's a full list of the rugelach flavors they offer:
Chocolate Nutella
Farmer's Cheese Raspberry
Dulce de Leche
Tomato Pecorino
Jalapeño Cream Cheese
Blue Cheese Pear
White Chocolate Granny Smith Apple
Olive Feta
As you can see, those are not traditional rugelach flavors, with 3 of them savory, all of them inventive, and all of them delicious. They totally nailed the texture: soft center + flaky shell. Perfect. Especially when hot.
P/S also offers sandwiches on their delicious croissants which come in 3 varieties: butter, whole grain, and pretzel (a salty, delicious, pastry). Here are the sandwich offerings:
Manchego Breakfast – omelet, salsa, avocado, wasabi
Ricotta Omelet – avocado, tomato
Goat Cheese Avocado – tomato, beet horseradish
Brie Apple – wild flower honey, roasted walnut
Blue Cheese Fig – arugula, salted pistachios
Mozzarella Pesto – chunky tomato, kalamata olives
Nutella – salted butter, roasted hazelnut
All of the above sandwiches are $7.50, except the Nutella which is $4.50 (only one without cheese)
I tried both the Manchego Breakfast & Mozzarella Pesto. They were both delicious, perfectly executed sandwiches that I would order for breakfast or possibly at any other meal time.
Additionally, they had me try their coffee. I was a bit warm inside their cafe, so they blended me an Iced Nutella Latte, which rivals many of Starbucks' flavored drinks. And while they do not offer Cholov Yisroel pastries, they do offer CY milk for their coffees.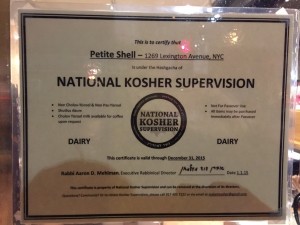 Many people asked about the kashrut and the fact that they are open on Shabbat. Kosher supervision is under NKS (Rabbi Mehlman) and the owner told me he leases out the restaurant to a non-Jew every Friday afternoon until 2 hours after Shabbat has ended and does not see any money from their Shabbat sales.
Petite Shell is definitely a place to hang out by yourself to study or chill, or it's definitely a place to bring friends or a date.