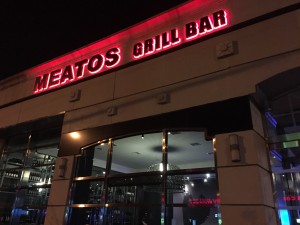 This is a tough review to write because I'm not sure where to begin, so I'll start chronologically.
Meatos is a popular kosher restaurant in Tel Aviv that I had not tried, but had heard good things about. They opened in Queens over the summer and people were excited. Since then I've heard mixed reviews. Two of my "foodie" friends who I trust in this arena recommended that I go, but to only try the burgers as the rest of the menu was par/subpar.
This past Wednesday night, New Years Eve, I went with a group of 6 others for a fun night out. I had made reservations the day before, and luckily, they were able to find us a table. It was clear that the restaurant was going to be full for the evening.
We arrived a little after 8pm and were seated in the large side room. One of the first things we all noticed was the grandeur of the restaurant. It's large (I'm guessing it can seat around 200), and beautiful with high ceilings and massive floor to ceiling glass windows. It was the perfect setting for a great New Years Eve.
After a short while of waiting, our waiter asked us if we wanted salads and proceeded to bring out an array of small dishes with tastings of different "salatim" and bread. Most of the salads were tasty, but there wasn't much to go around with 7 people at the table. On the menu, this appeared like something that Meatos normally charged for, but it seemed they had anticipated a slow night ahead and gave it to us, which begs the question: why is there nothing brought to diners before the food comes out normally? I guess that's for a different time. I'm thankful they brought it out that night because we were hungry.
After being at the restaurant for a good 20 minutes, finally our order was taken. We realized that part of the delay was due to the fact that there was only one waiter serving the side room, which had about 40+ people in it across 7 tables. That's way too much for one waiter to handle.
Based on the feedback of my foodie friends, myself and most of the table proceeded to order one of their burgers, which cost a whopping $25 for a beef or lamb burger. Likely the most expensive burger I've ever paid for… but if it's good, I'm willing to pay it because I love burgers. My wife ordered the Angus Sirloin steak, the only one not to order one of burgers on the menu.
Then we waited.
And waited.
Over 100 minutes had passed between arriving at the restaurant and the food starting to arrive at the table. During this long wait time the salads and breads were not replenished. We sat and waited, hungry. We had 8pm reservations but didn't see our food until almost 10pm. Except not everyone was brought their food.
As my friend's and my burgers were being placed on the table, the waiter informed one of the people in our group that there were no more beef burgers left. After nearly two hours, they didn't once think to mention that there was a run on burgers! No food was brought for him.
Adding insult to injury, my friend and I had both ordered our beef burgers Medium Rare. Both of our burgers arrived Well Done. We sent it back. But now with no more beef burgers left we reordered our burgers as lamb, again Medium Rare. We notified the manager how long it had taken for our food to arrive and we believe he helped expedite our burgers being brought out within 20 minutes (assuming that that's considered expedited here).
We both decided to cut into our burgers and found the center RAW. Not rare. Raw.
At this point it's approaching 11pm and this comedy of errors is no longer funny. To make matters worse, the food I was able to taste at the table was par, at best. My wife's steak was brought to her at room temperature / semi-cold. It had a good flavor, but wasn't served hot. The French fries that came with my burger were honestly the most tasteless out-of-a-frozen-bag fries I may have ever had. I wish I was kidding.
Those at the table who ate their burgers (and who preferred their burgers overcooked) said that they were good, but not amazing. Not worthy of the price they were charging for it. Alas, I can't comment on the quality of their burgers because I never received an edible one.
Throughout the evening we had noticed that although the restaurant was full, well after we arrived, many tables got up and left before being served any food. In retrospect, we should've done the same, but it would be difficult to write this review if that was the case – plus, we really wanted to try their burgers.
So, we sent the raw burgers back and we were done. We wanted to leave. The check arrived and it was steep. Despite a few of us not receiving our food at all, and all of us waiting way too long to receive our food with nothing to snack on in between, the management had decided to charge us in full for all the dishes received. A number of us at the table had gone over to he manager to discuss the situation and the response I received was "what do you want me to do?" Eventually the manager realized the problems they had cause us and took a % off of the bill, but his initial reluctance to make the table happy despite our awful experience had already further put a damper on our dinner experience.
Once we left, we drove a few minutes down Union Turnpike and found Burgers Plus open late. We both enjoyed delicious $12 burgers there as it was approaching midnight.
---
Now one may argue that one should not judge a restaurant on New Years Eve when the restaurant is likely to be busy. "They won't be on their A game", "They'll be slammed", etc. I would argue the opposite. Any restaurant that chooses to be open on NYE must give the same if not better experience to its customers as it would on any other night. A restaurant, especially one that charges a hefty premium, has an obligation to do right by its customers no matter what night it is.
Meatos didn't just open. They've been open for 5 months. They knew they were going to be packed in advance because they almost weren't able to take my reservation. The management's lack of planning, whether it be for the amount of staff, amount of food in the kitchen, or properly accommodating diners when things go wrong, all need to be considered and addressed for large nights like NYE. If they knew in advance that they were going to be understaffed or low on food, don't take reservations! It's a pretty simple solution. And if you screw up, own up to it and please the consumer. Meatos in this case did neither.
I paid $60 for a babysitter just to go out and enjoy my evening. Others in my party, and I'm sure others throughout the restaurant, had to make similar arrangements to go out that evening. How dare a restaurant not attempt to give us 100% effort while still charging us 100%. The entire situation wreaks of poor management and frankly, a lack of derech eretz towards their clientle. Restaurants should be called out when these situations occur, especially when management is indifferent towards their customers. Their money is no more important than the money of their patrons.
And just to make sure we weren't the only ones who experienced this situation, we asked a few more diners at other tables (the ones who hadn't prematurely left) what they experienced, and the responses were fairly unanimous: subpar food after extremely long waits. We were not alone in our experiences that night as it seems that the restaurant royally screwed up the entire evening.
Additionally, I wanted to make sure that this wasn't an isolated incident: I wanted to see what other people had thought about their experiences at Meatos recently. Here are a few examples of those that responded:
@YeahThatsKosher yup. Pretty looking but lousy service and lousy food. That was my experience as well. Happy new year. — Uri Frenkel (@UriFrenkel) January 1, 2015
@YeahThatsKosher was there a few months ago. Service was slow. Food was not cooked as ordered. Overall was not happy.

— Akiva Tepper (@AkivaTepper) January 1, 2015
@YeahThatsKosher Sara went there one night with some friends. Service was terrible with the food decent at best. The place was empty. — Jeff Bernstein (@jeff_berns) January 7, 2015
I am not on a witchhunt here, but I will call out restaurants that charge way more than they should for the product they are producing. I am truly hoping that Meatos can get their act together because it'd be a shame for such a beautiful restaurant to go to waste.
Please use the comments section below to add your experiences at Meatos to this conversation, good or bad.