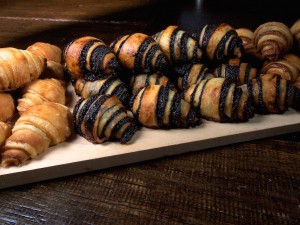 Finally, a kosher eatery dedicated to rugelach. Petite Shell is a new kosher cafe opening on January 14th on New York's Upper East Side that is reinventing the rugelach experience alongside the perfect cup of joe.
The rugelach (or as they are calling them "petite shells") will be entirely handmade, and will feature creative flavors such as 100% pure Piemonte Nutella; White Chocolate Granny Smith Apple; Bleu Cheese Pear; Feta Kalamata Olives; Farmer's Cheese Raspberry, and Barriloche's Dulce de Leche.  They created a special recipe to combine the qualities of flaky laminated dough while keeping the addictive density of true rugelach.
Everything in this eatery is dairy and is Kosher under the supervision of Rabbi Melhlman of Congregation Ohav Shalom on the UWS. The restaurant's food & drink are not Pas Yisroel / Cholov Yisroel.
The cafe also plans on utilizing the most sophisticated and modern techniques to brew their coffee including brewing the freshest coffee grinds on their "Steampunk" machine, as well as ice coffee options: coffee slowly dripped overnight in Japanese Cold Brew towers and Coffee On Tap, the perfect "draft" American ice coffee featuring a powerful extraction of flavor and caffeine.
Petite Shell's coffee is roasted exclusively by Forty Weight Coffee Roasters, a boutique, artisinal coffee outfit in Ithaca, NY.
Petite Shell is open from 7AM – 10PM on Sunday through Thursday and 7AM – 11PM on Friday & Saturday.