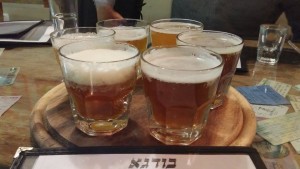 Review by Yehudah Jacobs
If any of you have visited Gush Etzion lately, you will notice that the culinary scene has had a change. After many years surviving with cafes, coffee shops and dairy eateries, people are demanding meat.
And tasty meat with a flavor is exactly what Menachem Katz delivers.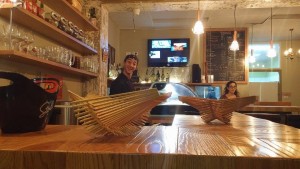 An Efrat native, who wanted to be a lawyer but ended up in the food industry. After receiving his culinary education under renowned Israeli chef Yossi ben Dayan at the Hadassah college, Menachem Katz blends his passions for food and music into the unique setting that is known as Bodega.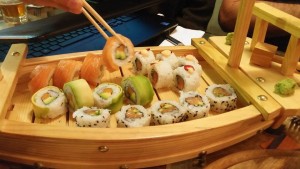 Menachem decided to call the place the Bodega because "at a bodega you can get your daily fix." Originally, he wanted to call it Avocado but "Bodega" was catchier, especially the association of the local convenience to many East Coast expats.  Located in the Efrat shopping center, in an ironic twist of faith, Bodega took over after a local grocery store closed its doors.
The Bodega offers a unique fusion of Mexican and Japanese cuisine. Here, you can order sushi and a burrito in the same place. The main crowd we met at the Bodega was a young and hip crowd, whether singles or young couples. Everyone came to enjoy not only a good meal but also a live show, a regular occurrence at the Bodega. When I was there, there was a live jazz band scatting away while playing great music. It was a bit loud for the size of the place but still nice to get live entertainment in an area where it never existed.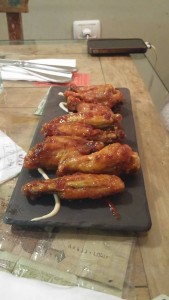 We started with a Saki sour that was delicious, after that we moved on a beer taster. They hold many beers that are made in locally in Israel on tap: Dancing Camel, Shapiro and more.  All the beers were really good, from the IPA to the lagers.  The rest of the alcohol menu is also great, from different bottled beers to cocktails.
Depending on what size of beer you order, you may get a glass that is just cool.
Even the water is served in large bottles that once held over sized quantities of alcohol- from beer to bourbon. Nice touch.
The food menu at the restaurant is unique, primarily due to the ecclectic fusion of cuisines that inspire the dishes.  We ordered chili fries, sushi and hot wings. The hot wings were deep fried to perfection and coated with a sauce that was spicy, but spot on. It was that nice sense of heat that you feel the heat at the back of your throat and doesn't burn your tongue so you can't enjoy the rest of your meal.
The sushi was very good. I liked the way Menachem put a jalapeño chili on top of one of the rolls to really get the fusion vibe. The chili fries are not your standard order of French fries.  They're seasoned battered French fries, which by concept is a great idea with a chili topping. The chili was a bit under seasoned and the fries turned into one big chunk of fries, I'd still would order them again.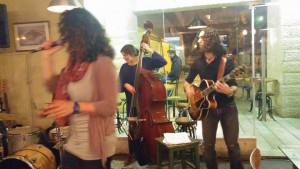 For the mains, we ordered many different items: Steak salad that was cooked to a perfect medium rare; Chicken salad that was seasoned nicely. The tortilla chips were a very nice addition to make the salad crunchy.  The burritos are made from premium cuts of beef and wrapped nicely with rice and beans. I personally ordered a burger done medium and a beef hot dog.  The hamburger I ordered wasn't the greatest, it was a bit dry. On the other hand, the hot dog was on point. Covered with pico de gallo and sauerkraut it was the highlight of my night.
The service was a bit slow at Bodega, but to be fair they were a bit swamped that night.
The Bodega is a one of a kind concept that fits the Gush Etzion crowd. While Gush Etzion is known to be filled with expats from North America, it's unique flavor of olim from all over the world make it a great place. Kind of like what makes Bodega a great addition to the scene- live music, tasty food, great selection of beers, what else do you need to enjoy a great night out?!