After spending a few days in the Uruguayan capital, Montevideo, getting to understand the culture of the land, we headed off for a relaxing weekend out East. Punta Del Este is a little under 2 hours East of the capital, but serves as the vacation hub for Latin America's rich & famous and is a world away from the bustle of Montevideo. That's not to say that it's not affordable to stay there, but it is a bit pricier than the rest of the country.
Upon arriving, the city very much reminded me of Miami crossed with Tel Aviv. There were interesting aspects of both cities that felt familiar to me in PDE. One thing's for sure though, this is a resort town that's only bustling for ¼ of the year like the Jersey Shore, the Catskills, the Hamptons, Cape Cod, and other regions. "Punta" is no different. Nearly all the Jews in town are vacationers from other parts of Latin America, mainly from Montivideo; Buenos Aires, Argentina; and Brazil. Of those Jews, the majority are of Sephardic background (many Syrian Jews), with an Ashkenazi population that is mainly serviced by the Jabad (Chabad) of Uruguay, who were very helpful.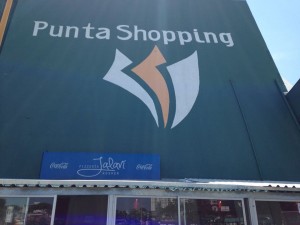 There's only one major global chain hotel in the city, the Conrad (Hilton's premier hotel chain), and it's neither cheap or has much availability during the summer months (Dec-Feb). We stayed at the Conrad, and it was a wonderful experience. It's centrally located in the city, walking distance to one of the 3 orthodox synagogues in PDE, as well as right on the beach (which in actuality means it is across the street), and a quick drive from the supermarket/kosher restaurant.
K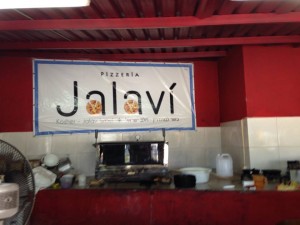 osher Info:
Prior to heading off to Uruguay, I was in touch with the Chabad rabbi of Uruguay's sons: one on Twitter and one via email, both were very helpful in giving me advice and making recommendations. One of them runs the relatively new kosher restaurant in town Jalaví Pizzeria (Jalavi = Chalavi = Dairy), which like much of the town, is only open for a few months a year. The restaurant is located at the Punta Shopping mall on the exterior (not inside the mall). Jalavi is Cholov Yisrael, and the make their own cheese.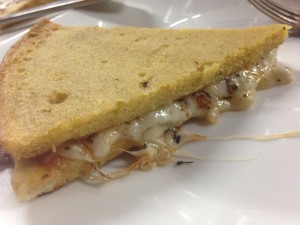 Jalaví serves a few different types of pizza, "faina" which is a local delicacy: baked pie made out of unleavened chickpeas that is eaten in conjunction with your pizza, fugazetta (no sauce pizza), fries with fried egg, and sushi certain times of the week. Click here for their menu. Justifiably, Jalaví is only open during the summer months.
The food was tasty and filling, probably the best food we had in Uruguay (perhaps by default because the other options weren't too amazing). We ate there multiple times whilst in PDE, and would recommend it to anyone visiting for lunch or dinner. They're also open pretty late, especially on Motzei Shabbat when Shabbat ends really late. It's a late night culture, so this makes sense.
This summer season 2014-2015, Jalavi will open on December 15th through the end of the summer season.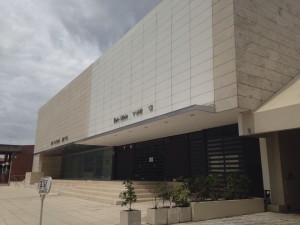 Also in PDE are 2 kosher markets. We visited a small one inside the Sinagoga Beit Yaacov, which is a beautiful Sephardic shul. It's only open for very limited hours, so be careful when you go. They close early. The market is run by an old Sephardic couple and they make homemade hummus, lachmajin, borekas, and other Sephardic dishes. Other items like packaged pitas, grape juice, wines, and challah were also available.
The other kosher market is much further from the center of town on the peninsula (also in the local shul), and we did not end up stopping there. Here is the list of kosher options from the Chabad website (in Spanish).
Travel Info:
Punta is a beach town filled with sunbathers, surfers, swimming (in the ocean, bay, or your hotel's pool), and shopping. The bay side (west) of the peninsula has much calmer waters, good for swimming. The ocean side (east) has better waves for surfing. Shopping in Punta Del Este isn't all too different from Miami. Very high end shops catering to high end clientele.
Ironically, our hotel (the Conrad), is a major hub of entertainment in town, being the largest hotel and the only casino in the resort area. When we arrived and checked into our room on Friday afternoon, we heard a live band performing outside preparing for a concert later that night. As I listened more closely, I recognized the songs. It was Ricky Martin. While we didn't attend the concert (given that it was later that night on Shabbat), we found out that the hotel was selling tickets for at least $300-400 each. Reiterating … this is a fancy resort area.
Jewish Info:
There are many pros and one major con for observant Jews in Punta Del Este.
The city has 3 shuls in 3 separate areas, so no matter which part of town you're in, you'll have access to one.
PDE also has just enough kosher options to make your relaxing stay enjoyable without having to make your own food for every meal.
The Chabad rabbi, Rabbi Eliezer Shemtov (originally from Brooklyn), and his family was not only nice and welcoming, they provided us with tons of advice and hosted us for Friday night dinner.
The main pain point we had was the lack of an eruv. With a toddler in tow, the Friday night dinner at the rabbi's house was great, but it was a long walk to any of the hotels for a 3 year old that late at night who had fallen asleep earlier at the rabbi's house.
Otherwise, it's definitely a safe and beautiful place to relax and enjoy the surroundings, including the main Sephardic shul, which is beautiful.