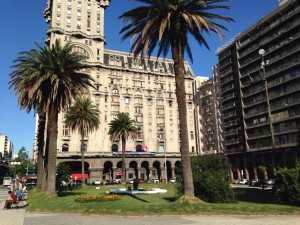 Earlier this year (end of February) I visited Uruguay on a 10 day trip which started out in the capital city of Montevideo. Having traveled to nearby Buenos Aires a few years back, I was struck by how safe I felt in Montevideo (and in all of Uruguay for that matter) as compared to the time spent in Buenos Aires. While poverty exists, Uruguay is a much more middle class society and the cost of living seems to be more affordable for most of the (visible) urban population. I will say though that the infrastructure, namely the sidewalks throughout the city, is awful, making a long walk through the city to be more painful than it needs to be, especially if you have a stroller.
When visiting Uruguay, keep in mind that their seasons are the reverse from the Northern Hemisphere as they are south of the Equator. Best times to visit are between mid-December and early March, their summer season.
In preparing for our trip, we had a lot of help from the Shemtov family (Rabbi Shemtov runs the Chabad/Jabad of Uruguay and lives in both Montevideo & Punta Del Este). Both the rabbi and a few of his sons were helpful in both email and on Twitter guiding us before we arrived. I've included many of their recommendations and advice in these posts.
Read more about Uruguay here:
Kosher Travel in Punta del Este, Uruguay (coming soon)
Kosher Travel in Colonia del Sacramento, Uruguay (coming soon)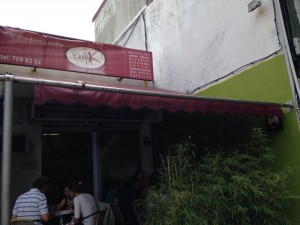 Kosher Info:
Kosher options in Montevideo are limited, but they do exist.
There are 2 kosher restaurants in Montevideo, as well as a kosher list of products of what you can pick up at a local supermarket. We ate at both restaurants as well as navigated the supermarkets – keeping in mind that everything is in Spanish – and we fared OK.
1) DellyK (or Deli Ka) is a small café style restaurant that we ate at twice. They have quirky hours, opening around 11am and closing by 4pm. They may extend this by the season, so it pays to call ahead. The first time we tried to eat there was around 6pm and they were closed. Luckily, there's a supermarket next door so we made due.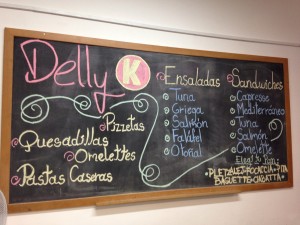 They do not have an updated website. Despite the name, it's a dairy restaurant where we were able to converse with the manager in Hebrew. His English and my Spanish weren't up to par for full conversation, but chatting in Hebrew did the trick.
We took a bus from the center of town to get here (it's not centrally located, but not all that difficult to get to either) twice, and drove here in a rental car as well. [Buses in the city are super cheap, so if you know where you're going, it's worth taking. Everyone, rich and poor, uses the city's public transportation.]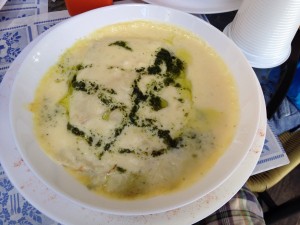 Seating at DellyK is limited and mainly outside under a small canopy with at most 4-5 small tables. A few seats exist inside but are mainly for single diners. Their menu consists of salads, pizzas, Panini style sandwiches, pasta dishes, and fish, plus pastry desserts.
In our two visits to the restaurant we tried a few pasta dishes (recommend), pizza (do not recommend), fish (do not recommend), salad (recommend), Caprese sandwich (recommend), and an apple crumble type of dessert (highly recommend). The food was really hit or miss. It doesn't compare to the quality of the kosher restaurants in Buenos Aires, but you won't leave hungry. I recommend going no later than 2:30pm / 3pm the latest if you want to have a full meal. Don't expect to show up at 3:45pm and be served a whole meal. While we were there in February, they did not have dinner hours. Unsure if that changes during their winter months.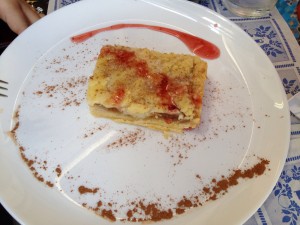 In lieu of having a place to eat dinner, we had DellyK deliver food back to our hotel which the front desk held for us in the lobby's bar's fridge. If you want to go this route, make sure to make your order at least 60-90 minutes before the restaurant closes so they have time to make and deliver the food. The nominal fee for deliver is well worth it.
2) Chabad's restaurant, Kos Kafe, is more of a counter / take-out style place inside Montevideo's Chabad house, however there is an abundance of seating in a quaint, nicely decorated interior location making it double as a cafe. (The address of the Chabad house is incorrectly placed 2 blocks further south on Google Maps, so be aware.) Most of the food available here is pre-made, which can be heated up for you to enjoy right there. Because it also serves as a mini kosher market of sorts for the local Jewish community, it's open slightly later than DellyK, until 6pm most days. I recommend calling in advance to confirm hours.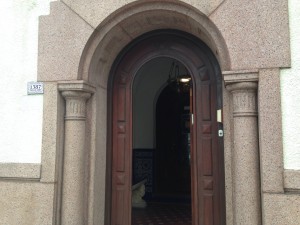 In addition to these 2 kosher places in the Uruguayan capital, there's a hotel that serves kosher breakfast year round, and is only a 5+ minute drive from the Chabad and other restaurant: Armon Suites. While I did not stay there, friends did stay there prior to my visit and said that the hotel "has a kosher breakfast open to non-guests but unless you are doing something in that area, I wouldn't recommend going out of your way for it. The neighborhood where it is located is a very pretty old neighborhood not far from the beach but I'm not sure about any tourist attractions per se." Based on this recommendation, we did not head out to the hotel just for breakfast. We were staying at a SPG property in the city center and figured out breakfast for ourselves for two days. However, according to their website, their bottom three floors are Shabbat friendly (I assume this means with manual keys and a short walk up), and that they also serve a kosher lunch and dinner upon request (unsure if this is always available and would request more info before assuming it is).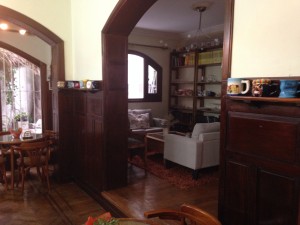 Additionally, we were given this list of kosher food available in all Uruguayan supermarkets, however it is entirely in Spanish. Despite our really basic level of understanding, we were able to figure it out once in the supermarket off of our iPhones, and it was helpful in purchasing food to keep on hand.
Travel Info:
Montevideo is not a city with a lot to see and experience, but it does have some charm. Locals looked at us funny since there aren't many tourists visiting the capital regularly. In general, the city's population is relatively well to do compared to most Latin American cities, which is reflective of Uruguay's economy in general. To quote my friend Aaron from his recent trip:
The thing to remember is that there's nothing jaw-droppingly amazing about Montevideo, but there is so much beauty and charm, so there's nothing I saw where I'd say "You must do this…" My feeling is more like you should find your own adventures there. It's a really cool place.
I really enjoyed exploring the western part of the city, the Old City. The Old City bordered the government buildings & a huge beautiful public square, the old theater, and contained many shops and parks. The further west within the old city you went, the poorer the neighborhood became, and we were advised not to be in the area past dusk.
The port area, on the northwest side of the Old City, had nice markets and shops, and seemed to be the only area where we found other tourists.
While I didn't get the opportunity to explore Montevideo's museums, my friend Aaron did:
We went to the Museum of Decorative Arts, which is an old mansion with an art and furniture collection, which we really enjoyed. It's adjacent to Zabala Plaza, named for the founder of the city. From there we walked to Constitution Plaza, which is nicer than Zabala and is surrounded by businesses and has vendors selling wares. The Gurvich Museum is there. It shows the work of a great Uruguayan artist (hint, he was really a European Jew, which is clear from his art but not mentioned at all in the Museum). From there we walked to Independence Plaza, where you exit the old city (the gates are the only part of the old city walls still standing). That Plaza is the grandest of the three. From there you can see government buildings and the Teatro del Sol, an ornate old theater that offers tours a couple of times a day.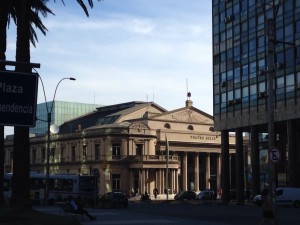 Aaron also got to explore many of the city's parks:
There are also really nice parks in Montevideo. We went to Rodo Park, which was nice to wander around in and is next to the National Visual Art Museum, which is small given its impressive name (it did not seem to have much of a permanent collection though the exhibits we saw were interesting). And I was sorry not to see Park Prado, which sounded very beautiful. We did go to the Botanic Garden, which was pretty but a bit far out of the central city.
Another component of the city that is hard to miss is the Rambla, the beach & promenade that literally surrounds the city along the coast. The vast majority of this many miles long stretch is amidst the well to do residential population of Montevideo where we observed many taking walks and going out for runs at all hours of the day.
In terms of where to stay, if you are in the city for Shabbat, best bet is to try Armon Suites, or to be in touch with the Chabad for recommendations. If not, there are multiple international chain hotels in the center city. We stayed at the Four Points Sheraton on SPG points, and received a beautiful large room and very friendly service.
Jewish Info:
I do recommend being in touch with the Chabad, who also operates the city's mikvah, for most Jewish services in the city beyond the advice given here. Unbeknownst to us, there's a long Jewish history in the city that we did not have the time to explore, but is very detailed in this article from Forward.com.

View Kosher Montevideo Uruguay in a larger map