Jamaica is the latest of 9 Caribbean islands to now have a Chabad presence! Although most of Jamaica's native Jews live in or near Kingston, Rabbi Yaakov & Mushkee Raskin chose to establish their home in Montego Bay, where most of the resorts and tourists are. Montego Bay was recently connected to Kingston with a new highway, cutting travel time between the two down to two hours.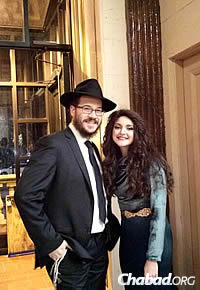 We asked Rabbi Raskin about their services for travelers and here's the info he provided:
We offer kosher meals whether for Shabbat or a regular weekday. We can work with the hotels in providing these to their customers. For Shabbat, we have services following a delicious traditional Shabbat meal.
They plan to make the trip to Kingston every week or two for Torah classes, children's programs and other Jewish services with the local community. Rabbi Yaakov says:
Sure, there are fewer Jews here than where we grew up…but that just means that we treasure each and every individual, and do our best to make every relationship as rich and meaningful as possible.
Learn more about this Chabad couple and what they have to offer the local Jewish community 
here
. If you were considering taking a trip to Jamaica as your next vacation, now is the right time!