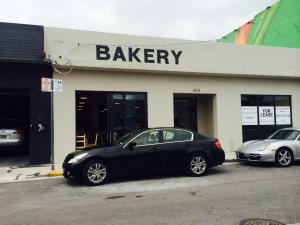 Guest Review by Dave Mosberg (aka Fellow Kosher Foodie)
Zak and his fellow bakers are a Kickstarter success story. They set out to raise the final monies needed to open up there bakery, and they did so very quickly.
Zak Stern's fresh artisan sourdough breads were already a success. With his bread being used at already popular retail establishments and by chefs throughout Miami, Zak now has opened a brick and mortar bakery with a small cafe, Zak the Baker.
My first thought as we were driving into the recently famous Wynwood art district of Miami (Art Basel) that this is a little slice of Williamsburg, Brooklyn. Which is exactly how Zak described it to me after I introduced myself and told him I was from NY. Already a big fan before I tasted anything.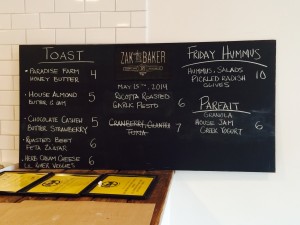 The large open bakery/kitchen is already an out of the box concept especially for a Kosher bakery/cafe where you can see Zak and the other bakers at work! As you walk in you are greeted by a friendly smiling staff and a counter piled high (usually, when we arrived Friday afternoon he was nearly sold out). Zak assured us he will always have bread available, although he donates the daily left over to the local kosher food bank. He is not interested in becoming a place where you have to be waiting in line extra early so one doesn't get sold out.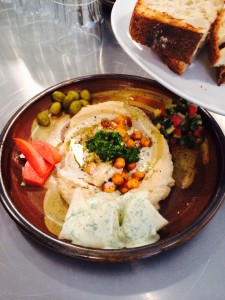 We wanted to order everything, so after picking out our bread to take home, we ordered two different toast sandwiches. First, we ordered the daily special which was ricotta roasted garlic pesto, and all I can say this was an amazing sandwich, especially for $6. I could eat this every day for lunch.
Then we had the house almond butter and Jam which was our "dessert". Needless to say they were amazing. The bread had perfect the crunch of the crust, which was just perfect, no too chewy. The balance of flavors in each toast was spot on – one perfectly savory and the other sweet. I recommend going for lunch (although he is open for breakfast) the menu is "larger" at lunch.
Zak the Baker is under the Kosher Miami certification.