Written By: Eric Heine
Edited By: Talia Rona
Many Jewish people I know enjoy going out to dinner on Christmas Eve, myself included.  However, instead of eating the "traditional" Chinese food, I decided to step it up a notch and embarked upon a trip to New Jersey (that's right- New Jersey!) to try Nobo Wine & Grill in Teaneck.  
Nobo is in the former location of the Pasta Factory.  In its previous life, the Pasta Dactory was an Italian dairy restaurant.  However, in 2009, they switched from dairy to meat but still kept their original name.  Shortly after, they changed their name altogether to Nobo because they are in the southernmost part of Teaneck, three blocks from Bogota, which they call"nobo" – north of Bogota.  They also (wisely) obtained a liquor license, something few restaurants in Teaneck have.
In July 2011, Nobo hired Josh Massin as their new executive chef.  Chef Josh came to Nobo after six years as chef de cuisine at Mike's Bistro in Manhattan.  He has over a decade of food-service experience, including working at the Prime Grill in NYC.
I walked into the restaurant with a party of five and was immediately struck by the ambiance – warm and stylish.  Patrons are surrounded by rustique brick walls and candles which makes for a very inviting environment. 

We were seated promptly, and a waiter came to our table to take our drink order within seconds.  Nobo boasts a very impressive wine-by-the-glass menu, however, I felt like starting with a cocktail that night.  The waiter's knowledge of the restaurant's cocktails was deep.  I ordered a Manhattan, which arrived quickly and mixed to perfection. 
As the waiter distributed our menus, we received a special treat–Chef Josh came over to our table to personally tell us about the menu. After a few moments of listening to him describe the menu, it was evident that he was enthusiastic  and passionate about his cooking.   Chef Josh told us that his philosophy is simple :"No detail or element can be less important or more important than another.  A great meal is not one that fills you up. A great meal is a kind of journey that returns you to sources of pleasure you may have forgotten and takes you to a place you haven't been before." (This quote can also be seen on the Nobo website).
As an appetizer, I ordered the Crisp Veal Salumi Flatbread which came with cauliflower puree, caramelized onions, applewood smoked veal bacon bits, and baby arugula. It had a sophisticated, hand crafted mix of flavors and textures.  Another friend ordered the Seasonal Wild Mushroom Risotto made with parsley puree and salamesian, in a white truffle oil.  The risotto was so light and creamy–I intend to order it the next time I go to Nobo.  Neither appetizers were too heavy or too rich to spoil your appetite for the main course.  
While we ate, we decided to order two bottles of wine for the table instead of getting individual glasses. Chef Josh personally picked out the wine for our table to complement our dishes.  The two wines he selected were from vineyards he personally visited in Israel.  While pouring the wine, it was enlightening to listen to the history of the vineyards as told by the chef. It was like getting our own private wine tasting and paring!
For the main course, one friend ordered the Crispy Skin Poached Dark Meat Chicken.  This is a smoky white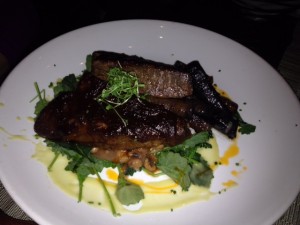 wine braised savoy cabbage served with local Russian fingerling potatoes, chicken sausage dumplings, braised leeks, red pepper aioli and garlic croutons.  Two other friends ordered the Boneless Braised BBQ Short Ribs.  This came with roasted garlic & rutabaga mash, smoky cannellini beans, leek sauce, and maple syrup infused BBQ sauce.  They were soft to cut and practically melted in your mouth.  After tasting the ribs from one of my friends, I almost regretted not ordering them!  My last friend and I ordered the 16 oz USDA Prime Boneless Rib Steak.   The best way to order this type of steak is medium rare, and sure enough it was made to perfection– no fat, seasoned perfectly, and easy to cut.  However, because it was so large, it did take me a while to eat the entire thing!  We all tasted each other's dishes (both appetizers and main courses) to see what we were missing and to know what to order for the next time we come to the restaurant.  After only one bite of each dish, it was obvious that Chef Josh is highly committed to freshness, quality, & seasonality in his cooking.
Chef Josh's idea of bringing the luxury of the NYC dining occurrence to the New Jersey area is a great success.  If you thought that fine dining does not exist outside New York City, you are sadly mistaken.  Nobo can rival any NYC restaurant!  I highly recommend New Yorkers take the "adventure" and travel to New Jersey for what will surely be a memorable experience! 
(Nobo is under the hashgacha of the RCBC- Rabbinical Council of Bergen County.)