The latest food truck to hit the streets of NYC (after NYC Sandwich Factory and Grill on Wheels) is Schnitzi, "the original schnitzel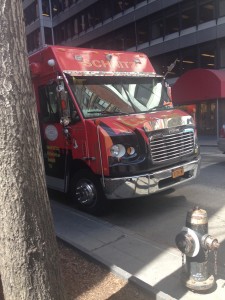 from Brooklyn." For those of you who have been to their Brooklyn locations, you know their schnitzel does not disappoint. Similar to Chickie's (in Teaneck and Monsey) in concept, the Schnitzi truck offers 9 different variations of schnitzel! They are:
Greek (fresh crushed garlic and bread crumbs)
French (dijon mustard and bread crumbs)
Polish (double layered bread crumbs)
Yemenite (falafel seasoning and bread crumbs)
Chinese (sesame and bread crumbs)
Indian (golden bread crumbs and Indian curry spice)
Spanish (chili peppers and bread crumbs)
Italian (herbs and bread crumbs)
Schnitzi (bread crumbs and Bissli crumbs)
There are also salads and burgers on the menu as well. You can instruct the server to include lettuce, pickles, grilled or raw onions, and tomatoes on your baguette.
Follow the Schnitzi truck on Twitter for their updated location.
Schnitzi (truck) is under the hashgacha  of Rabbi Yisroel P. Gornish.