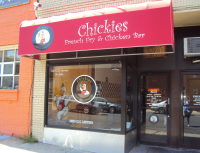 Famous for their "Cap'n Munch," a sandwich with Captain Crunch and pretzel coated fried chicken, Chickies of Teaneck, New Jersey has opened a second location in Monsey, New York.
Chickies is a french fry and chicken bar with sandwiches, wraps, wings, and salad (but if you order a salad at Chickies, we'll pretend not to know you.) Chickie's sandwiches have become so popular that Kosher cookbook author, Susie Fishbein, even included a recipe for a Chickie's sandwich in her most recent cookbook, Kosher by Design Cooking Coach.
The Teaneck Chickies usually has lines out the door, and we hope their Monsey location does just as well!
Chickies is under the kashrus supervision of the R.C.B.C.