Heading into my second year attending KFWE (the Kosher Food & Wine Experience), I was excited for a night of good food and good people. Many others were also excited by the huge selection of kosher wines from around the world, but not being a wine aficionado myself, I left the wine tasting to the experts. I, of course, needed to try as much food as I could, especially from the restaurants I am less familiar with (even passing up an opportunity to try the newly kosher Bravo Pizza in midtown, just to save some room for all the food I was about to enjoy).
Overall, I had a great experience, but the taste of the foods I tried was a mixed bag. While I will only review the restaurants at KFWE below, I did taste a lot of the other food which my wife, Arielle, reviewed on Jewneric.com.
(In alphabetical order)
Basil – Since Basil is a dairy restaurant, and since the majority of the restaurants on display were meat, they only brought their dessert, and a pareve one at that. I tasted their Flourless Chocolate Cake with Mousse which was a bit rich and not my cup of tea. I know Basil has more to showcase than this, but was limited given the meat-heavy nature of the event. Basil is located in Crown Heights, Brooklyn.
Bistro 1310 – I've been hearing good things from people who eat here, and their food from last year was really good. The food this year was very similar. I tried their Short Rib Sliders, which were huge for sliders. Tons of meat and sauce on a small roll. The meat / sauce combo was a bit rich and given that people were getting tastes from all the different tables, this was a large portion. Was it good? Yes. Did it blow me away? No. Maybe I set my expectations too high? Bistro 1310 is located in Borough Park, Brooklyn.
Carlos & Gabby's – I'll admit it. I skipped over C&G's table. Why? Because I'm a frequent "supporter" of my local Carlos & Gabby's and know their menu pretty well. I'm an unabashed fan, and typically love their style of fast food. Having said that, my wife did try the food (Taquitos & BBQ Beef Sliders) and was raving about them all night, especially the sliders. Carlos & Gabby's has locations in Brooklyn, Queens, 5 Towns, Riverdale, and inside Madison Square Garden.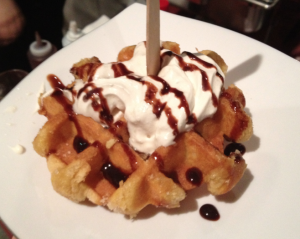 The Coffee Bean & Tea Leaf – While the Coffee Bean is both dairy and new the NYC area, they did not disappoint offering a pareve dessert. Their pareve waffle & whipped cream was surprisingly tasty. It looked appealing, but I was skeptical knowing it was pareve. I finished the entire thing. The Coffee Bean has 3 locations in Manhattan, and many kosher locations out West including Los Angeles and Las Vegas. @CoffeeBeanNY
ETC. Steakhouse – elegantly presented (which was not the case for many of the other restaurants), their Barbecue Oxtail with red mashed potatoes was quite tasty. It was not as different as the name of the dish suggests, but it was tasty nonetheless. Etc. Steakhouse has a pretty unique menu, and I'm hoping they bring something new to the table next year. Etc. Steakhouse is located in Teaneck, NJ. @etcsteakhouse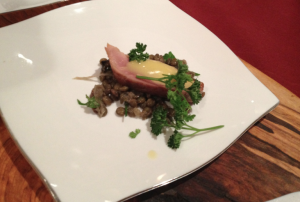 Le Maraís – a standard fixture in NYC for years, I've come to expect good but not mind blowing food from Le Marais. Having said that, their Smoked Duck Breast was one of the most unique dishes I tried that night. The duck was served with a French lentil salad and a mustard vinaigrette which was tangy and quite tasty. I'm glad they went with something different. Le Marais is located in Times Square in Manhattan.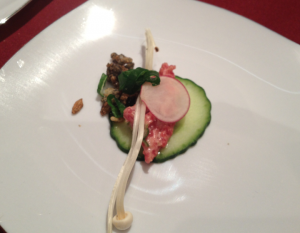 Pardes – I've been hearing some amazing things about Pardes from others, and will be trying it in the next couple weeks. Their non-dessert offering was a Smoked 'Grow & Behold' Ribeye Tartare with soy, enoki & Rice Krispies. The dish was tiny, so the entire morsel was literally one bite, but the dish was quite unique; I really enjoyed it. It truly embodied everything I've been hearing about Pardes; that their food is inventive and delicious. (FYI – Grow & Behold is the only source for OU Kosher Pasture-Raised Beef, Veal, Lamb and Poultry with no antibiotics and no hormones in their livestock. Pardes is located in downtown Brooklyn. @GrowandBehold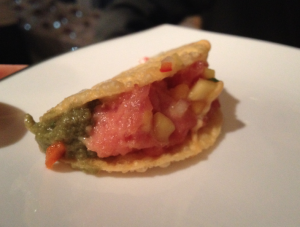 The Reserve • Sushi & Steakhouse – From the looks of it, this is Lakewood's fanciest locale, and their offering at KFWE was fairly unique. I tried both of their dishes. I particularly enjoyed their Tuna Tartare & Guacamole Taco, which was a sushi-esque filling of a mini taco shell. Their Seared Prime Beef with corn pudding, spiced popcorn and pomegranate was also really interesting and different. I didn't expect to enjoy steak & spicy popcorn together, but it worked. The Reserve is located in Lakewood, NJ.
Shalom Bombay & Subsational – I was not able to try the food from these restaurants, although I've eaten at S.B. a number of times, and at Subsational dozens of times, and I can recommend both places (albeit to very different crowds). Shalom Bombay is located in midtown Manhattan and Subsational has 3 locations in Brooklyn.
Sushein – If you've seen my earlier review of Sushein as well as my tweets, you'll know I'm a fan of the restaurant (especially their sushi conveyor belt). I tried their crispy meat Wontons towards the end of the night and I enjoyed both the flavor and the texture. It didn't blow me away, but it was good. I of course also had some of their sushi, which is always good. Sushein is located in lower Manhattan. @SusheinInc
Tevere – This is one restaurant I've been meaning to try for years, and just haven't been able to. After trying their food, I will make sure to put it in my calendar. I tasted their "Carciofi alla Giudia" (Artichokes "Roman Style") which was unbelievably delicious, perhaps my favorite dish of the night, as well as their "Mezzi Rigatoni" (pasta) with stracotto sauce, which was good, but pales in comparison to the artichokes. Tevere is located on the Upper East Side of Manhattan.