Click here for: Restaurant Info
Sushein is a brand new Kosher sushi restaurant officially opening today in downtown Manhattan (NYC) near City Hall. What makes Sushein unique is that they are the 1st kosher sushi restaurant in the U.S. to have a conveyor belt in the restaurant deliver sushi to its patrons. I have seen these conveyor belt sushi places before, but never kosher. I was lucky enough to be invited to a special "invite-only" premiere this Sunday, and I left full, satisfied, and overall had a great culinary experience. (Scroll down to the bottom for more pictures from Sushein)


The way a conveyor belt sushi restaurant works is the conveyor belt loops between the kitchen or sushi chefs making the sushi/sashimi/hand rolls/seaweed salads/etc. and the patrons. Each plate of sushi is color coated, which delineates the cost of that plate. You can grab whatever you want off of the conveyor belt and just eat. No ordering required. You can, however, order something from the menu a la carte from one of the waiters.

>> Watch the video to see the conveyor belt in action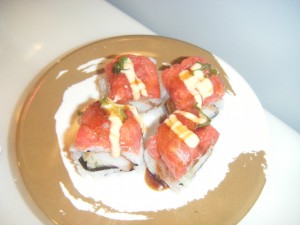 Since the plates are small, the portions are really appetizer or "tapas" sized, and thus priced accordingly, with plates ranging from $2.50 – $7+ each. It is not uncommon to eat multiple plates off of the conveyor belt. At the end of your meal, your plates are tallied up to figure out your cost of meal. (In Sushein, because it is a meat restaurant, they also serve beef or chicken sushi, which is quite innovative and tasty, and those plates have a red sticker on them letting you know they are "fleishigs".)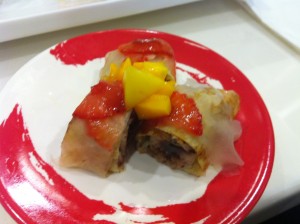 Some of the sushi rolls I tried were interesting and innovative, including a roll with Salmon, Mango, and Pesto sauce; a "dessert" roll with strawberries, mango, pineapple, and a creamy chocolate center; as well as various rolls incorporating asparagus, chicken breast, beef slices, etc. Every one I tried was beautifully presented and delicious.
I would describe Sushein's cuisine as Asian Fusion. While many may just go to sample the sushi from the conveyor belt, which is a fun experience, their menu incorporates Asian flavors from across the region.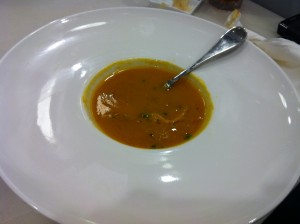 We tried a handful of appetizers, soups, and main dishes.
My favorites were the Sweet Potato Coconut Curry soup, Lamb Lollies, Short Ribs, and Chilean Sea Bass.
Arielle and I both agreed that the portions were perfectly sized, not too big or small.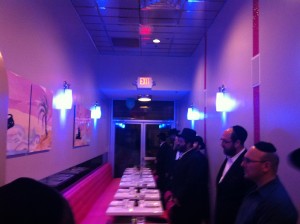 The design of silver with pink accents gave it a fun and modern environment, with flat screen TVs, a sushi bar and booths along the conveyor belt, and a back room (not near the conveyor belt) for larger groups or private parties of up to around 20 people. The design was done by Niki Broyn of Brooklyn.
Forgot to mention… Sushein has a selection of Kosher Wines to help you enjoy your meal.

More pics from Sushein:

It's a great date place, or even a place to take a co-worker. Hope you enjoy it.
~Dani

Sushein
325 Broadway
New York, NY
(212) 962-2500
Under the Supervision of the Orthodox Union (OU)