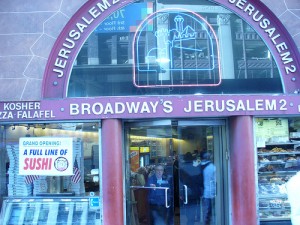 "Broadway's Jerusalem 2" Pizza (J2) , now formerly "The Most Famous Kosher Pizza Place in the World", will be closing its doors in it's once popular location on Broadway in Midtown Manhattan. Why? We can't say for sure, but the amount of competition recently (re: Bravo Pizza Becomes Kosher in NYC), coupled with declining quality and rising prices at J2 have likely lead to lower sales and profits at the largest (physically) kosher pizza store in the world.
J2 will be moving to W36th street between 5th & 6th Aves, nearly around the corner, and renaming as "Jerusalem Cafe". Over the past few years, 2 other Kosher pizza joints occupied that space: Aroma Pizza & Mike's Pizzeria; both failed.
Will Jerusalem Cafe be the next victim in the New York Kosher Pizza saga?
H/T to @Koshertopia for breaking the story.
Photo credit: f10ga11ma from Flickr