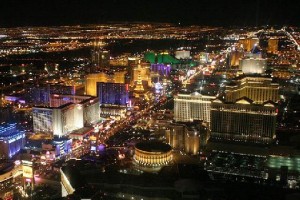 Many kosher observant technophiles will be in Las Vegas this week for the CES conference. We've put together a list of all of the Kosher restaurants and supermarkets carrying kosher products in the area.
Las Vegas has the fastest growing Jewish population in the United States. As such, the kosher options available for locals, as well as tourists have greatly expanded. Here is a list of options for your next vacation, or attending this week's CES conference.
All restaurants listed here are under the supervision of Chabad of Southern Nevada. Most restaurants will deliver to hotels for a fee.
Let us know if you have any Kosher tips for Las Vegas by commenting below or Tweeting us:
Tweet to @YeahThatsKosher
Coffee Bean & Tea Leaf (Dairy): On the strip, inside at least 2 of the hotels you'll find a Kosher Coffee Bean (including 2 of the hotels hosting the CES conference).

1) The Palazzo Resort: 3325 S Las Vegas Blvd – In the Palazzo, it's right next to the security guard station by the guest elevators.
2) The Venetian Las Vegas: 3355 Las Vegas Boulevard South – In the Venetian, it's at the top of the escalators, on the floor above the casino, near the walkway to the parking lot / Grand Canal Shoppes
(Thank you to @ChaimHass & @DebbyTeicher for this tip!)
Jerusalem Grill (Meat): As the name implies, Jerusalem Grill serves up delicious, authentic Israeli food. Shawarma, falafel, schnitzel, chicken, etc. Good portions, and a nice variety.Hours: Sun – Thurs: 11 am -10 pm | Fri: 10am – Sundown
Phone: 702-341-5555
Address: 4825 W. Flamingo Rd. (Flamingo & Decatur)
Web: www.jerusalemgrillvegas.com
Big Dragon – has recently closed (updated April 2013)
Las Vegas also has options for people looking to purchase their own grocery's. While Las Vegas does not currently have a standalone kosher market, there are stores with sizable kosher sections.
Smith's (Kosher Experience): Extensive Kosher section which includes fresh Kosher meat cut daily, fresh bakery products including jelly donuts baked daily. They have rotisserie chicken, deli meats, fresh salads, hot soups and a wonderful assortment of wines. Cholov Yisroel Milk and cheese are also available. All the breads, cakes and bakery items are pas Yisroel. The supervision is under Chabad of Southern Nevada. The store is open 24/7, although the staff at the kosher deli counter leaves at 6:00pm on most weekdays, except of course erev Shabbos. However, even when they are closed, there are premade meals out which makes for an easy, and often very affordable meal option.Phone: 702-256-5200
Address: 2211 N. Rampart Blvd
Albertsons Market: Extensive Kosher section which includes fresh Kosher meat cut twice a week under the supervision of Chabad, Cholov Yisroel Milk and cheese, Pas Yisroel breads, Challahs and cakes. They also have pre made meals in refrigerator. They offer sandwiches, schnitzel, and many other items that are ready to go. They are open from 6am-1am.Phone: 702-242-1138
Address: 2550 S. Fort Apache (at Sahara and Fort Apache)