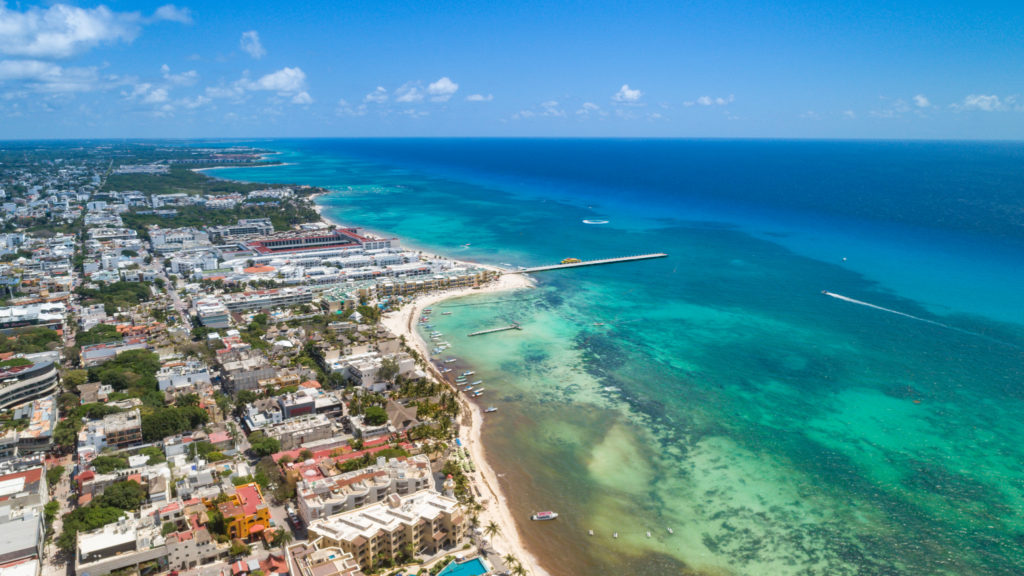 Playa Del Carmen
Located approximately 1 hour from the Cancun airport, Playa Del Carmen is best suited for couples or families in search of luxury and relaxation. Compared to the party-laden Cancun, Playa Del Carmen is like the more sophisticated and mature older sister. In Playa Del Carmen you will find multiple golf and beach resorts at various price points which cater to both adults and families. It is the perfect place for honeymooners or a relaxed family vacation.
Options for exploring outside of your resort are limited but available. The beach-front pedestrian stretch of Quinta Avenida is where you can find blocks of restaurants, shops, clubs, and bars. Several tours and excursions can also be arranged through your hotel, which includes swimming with turtles in the nearby town of Akumal, swimming, zip-lining, and kayaking in the many beautiful cenotes (natural sinkholes), and visiting the ancient Mayan Ruins of Chichen Itza.
Just outside the city, there are two parks: Xcaret and Xplor. Xcaret is a nature park with underground rivers, archaeological sites, and rides; while Xplor is an exploration of the Mayan jungle through zip-lines, driving amphibious vehicles, cave swimming, and more.
Kosher in Playa Del Carmen:
Playa Del Carmen boasts 5 kosher eateries, all in the central part of the city.
Más Pan is a kosher bakery and cafe, serving pizzas, borekas, sandwiches, shakshukas, pastries, sambusak, croissants, breads, toasts, salads, and coffees. Open late daily until 2am, except Fridays.
Falafel Bar is a small falafel joint a block from the beach, serving authentic hummus, falafel, and fresh veggies.  Open Sun-Thurs from 1-10pm. Chabad kashrut.
Kosher Playa is a Chabad run restaurant serving shakshuka, omelettes, schnitzel, chicken, noodles, spaghetti and more. Open daily at 9am, closes 9pm through Thursday, closes 4pm Fridays. Closed on Shabbat.
Platinum Kosher is relatively new (2019) upscale kosher restaurant to PDC offering steak, burgers, and Israeli fare.
Dr. Hummus is a new hummus and falalfel joint in the heart of PDC. Kosher supervision by Chabad Playa.
Hotel 770 is a hotel offering kosher rooms and an in-house kosher restaurant serving Mexican and Jewish cuisine (menu). The hotel also has a kosher market, butcher, and mikvah.
Moshe Cube – kosher Middle Eastern style restaurant. Kosher under Chabad Playa.
Note: Menfis, Paz, and Yummy are recent kosher restaurants that have closed in the area.
Note: Non-Kosher restaurant PLANK claims to have a Kosher menu, but does not list any kosher supervision.
Additionally, the local Chabad in Playa Del Carmen offering a kosher catering service, with meals prepared daily. Chabad Catered Meals
Shabbat meals can be reserved with the Chabad on their website.
Click on each region for more info: Cancun // Isla Mujeres // Playa Del Carmen // Cozumel // Tulum // Main Article