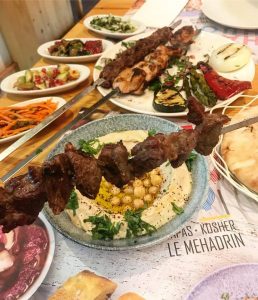 A brand new glatt kosher restaurant has opened in Barcelona, Spain earlier this year, hoping to attract many kosher tourists that visit the area each year. On the busy street of Las Ramblas, Calle de Ferran,  Shaq Shuq offers many vegetarian, vegan, and meat options for those who are looking for a good kosher meal.
Diners can enjoy a meal overlooking the busy street, at a quiet table, or at the bar.
Shaq Shuq's menu items & tapas include Hummus with juicy mushrooms, Mediterranean fish, chicken and meat skewers, cauliflower with tahini, and pomegranate cucumbers.
They have tapas and salads of all types.
Hours of operation are Sunday-Thursday 12pm-12am and Friday 12pm-5pm.
Shaq Shuq is certified by Harabanut Hareishit of Barcelona & Catalonia, using Bet Yosef meat.