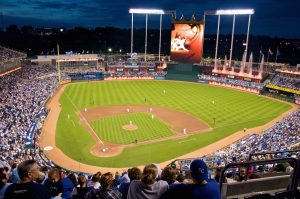 Kohn's Kosher Meat & Deli
is adding Kauffman Stadium, home of the Kansas City Royals, to its list of kosher locations. The new kosher food stand in Kansas City will mimic the original one that
Kohn's operates in Busch Stadium
, where the St. Louis Cardinals play.
Royals fans will soon be able to enjoy Kohn's pastrami, corned beef, knishes, and stadium hots dogs starting April 19th, the first home game after Passover. 
Kohn's ownership is also considering opening additional kosher stands at ballparks in Chicago and Denver, though details haven't yet been worked out.
The kosher stand at Kauffman Stadium will be located in the ballpark's main level.
The kosher cart will serve strictly kosher food certified by the Vaad HaKashruth of Kansas City.