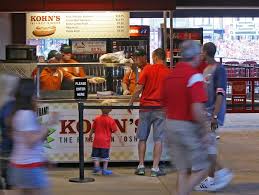 Busch Stadium, home to the St. Louis Cardinals, now one of a handful of sports stadiums in the U.S. to offer Kosher concession stands! Until now, the only Kosher food available at the stadium was hot pretzels, Dippin Dots ice cream, and soft drinks. Together. Josh Rosenbloom and Lenny Kohn of Kohn's Kosher Deli, a fixture in the local St. Louis Jewish community for over 50 years, created Kohn's Kosher Cart. In order to be allowed in the stadium, they had to be open on Shabbat and Jewish holidays, so they worked it out by having 2 carts, Kohn's and another called Coney Island Deli which has the same exact food but is not Kosher.
The menu includes the traditional baseball stadium hot dog, in addition to classic Jewish deli favorites like pastrami and corned beef sandwiches and knishes. Surprisingly, despite the 60,000 Kosher-keeping Jews in the area, Kohn's customer base is 75% non-Jews who happen to enjoy Kosher food!
Kohn's Kosher Deli is under the supervision of the Va'ad Hoeir of St. Louis.
Source: STLToday.com