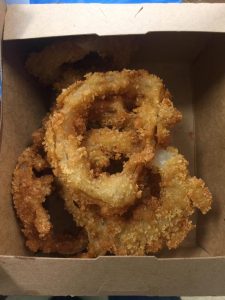 The owners of Cafe Sheli in Toronto have gone meat! Sheli's Burgers and Fried Chicken is now open in Thornhill.
All burgers are made from angus beef, ground in house, served on freshly toasted brioche. There are many options to choose from: The New Yorker (grilled pastrami, coleslaw), Sabra (lamb, beef, grilled tomato, caramelized onions, hummus), Mexicani (avocado, jalapeños, salsa, parve cheese), and others.
Customers can also order chili dogs, Chicago dogs, southern fried chicken, as well as classic or breaded wings, tenders, or popcorn chicken. [Click here for full menu]
Chicken sandwiches are also served on a brioche bun. Extra toppings include an extra patty, maple beef, bacon, pastrami, cheese, egg, avocado, sauerkraut, sriracha mayo, and many more.
They also serve pareve 'milkshakes' and frozen custard.
Sheli's Burgers is kosher certified by the COR.