Article submitted by Corey Goldfeder
I visited Buenos Aires, Argentina for a few days for a work conference. There's plenty of
kosher food in BA
but not really near the convention center, so I took cabs to the Jewish area for lunch and dinner (about 15 minutes each way). I didn't really have time to take great photos or notes, but I put together a series of micro-reviews of all the places I managed to visit
in 5 days
. Except for
Asian
and the kosher 
McDonald's
, all of these stores are on the same three block stretch on Tucuman St.

Kokush bakery
– good overall, but the reason to come here is to get kosher Alfajores. This is the Argentinian national cookie, sold pretty much everywhere you look, and Kokush sells delicious dairy ones in different flavors. They are individually wrapped, and if you ask them (they speak English) they will pack them for you to take home on the plane. Buy as many as you can fit in your luggage; they aren't cheap but they are worth it.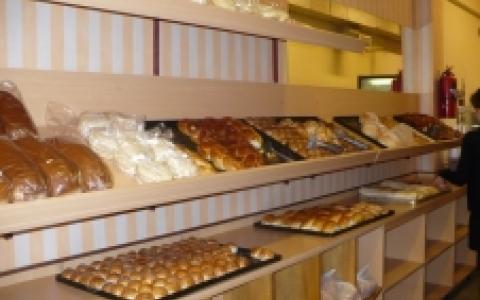 Pizzeria Venecia – personal pies and lots of dairy Argentinian foods such as empanadas and 5 other similar things the names of which escape me but which were all delicious. The only dairy place I came across that felt local. I told the guy behind the counter (in Hebrew, which was our only shared language) that I was visiting and wanted to taste local foods, and he loaded me up with a great selection of stuff that lasted for lunch and dinner, and then spent a few minutes giving me detailed directions around the neighborhood. Full points for being delicious, cheap and friendly.
El Galope – The ambience is standard low-rent fleishig restaurant and no one spoke a word of English, which complicated ordering, but the steak was amazing and surprisingly affordable. Definitely worth visiting.
Freddo Gelato
 – these are everywhere, and many of the flavors are kosher. Ignore the signage, which can be out of date, and instead look at the list on the Ajdut Kosher website. Absolutely delicious; I went to Freddos multiple times.
McDonald's
– there are three Mickey D's in the Abasto mall. The kosher McDonald's is one of the two in the upstairs food court (it's clearly marked). Prices were very cheap, but the portions were tiny. I have no idea if this is what McDonald's is usually like. The food was ok (standard burger on a plain bun, regular fries and chicken wings). The only reason to go here is location; it's closer to the business district than the rest of the kosher restaurants.
Ajim Deli – Deli and schnitzel sandwiches, sort of an Israeli vibe. I got food here for the plane home, which was a great choice.
Pizzería Romini
– decent personal pies and a selection of sandwiches and the like. Nothing specifically Argentinian about this place, but a good choice for lunch.
Sushi Pi-chi-klin – mid-range sit-down sushi (think Sushi Tokyo in NY), good for lunch although it was quite crowded when I went.
Asian
– I had high hopes for this restaurant based on prior reviews. In practice it was a big letdown. The cocktails were meh, the appetizers were ok (I had the meat spring rolls, one of perhaps two interesting items on the menu). The formerly adventurous menu is gone, and the mains were basically all steak, which was tasty but nothing particularly special, and which took forever to be served even though the place was completely empty. If you look on TripAdvisor it appears that it started to take a serious nosedive in 2013 or so.