My wife and I love to travel. We have little kids and we're not going to stop traveling because we have kids. One of the biggest hassles we've encountered while traveling was taking the kids in a rental car, taxi, or any other car not our own. The booster / child seats are either in really poor condition, not installed correctly or non-existent.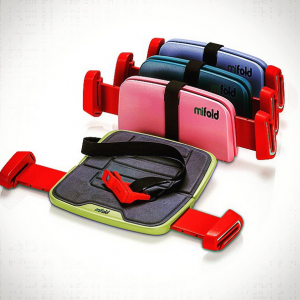 When I saw the following product on Indiegogo I knew that this was a product I needed in order to travel safely (and sanely) with my kids. Mifold is a tiny foldable booster seat for kids aged 4-12 and can be installed in basically any car. It's so small that your kids can carry it in their backpacks whilst on your travels. Additional bonus: This is an Israeli innovation. 
The best part is, it's super affordable ($39 or less if you buy multiples), partially because it's still in production. It sucks that I won't be able to use it for any upcoming travels since it ships in May 2016, but I will need a product like this for years to come so it's worth the investment, and if you're a young parent like me (or even a grandparent who's shuttling around grandkids), this is a great product to have in your car or take with you on vacation.
Here's a video describing the product: