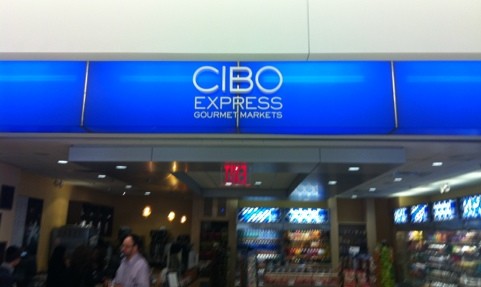 One of the major questions I keep getting asked is where to find kosher options at NYC's airports. Not only are JFK, LaGuardia, and Newark airports major domestic & international hubs for dozens of airlines, but hundreds of thousands of kosher keeping Jews use these airports each year.
Thankfully, there are currently abundant kosher prepared food options at all major NY/NJ airports packaged under the FRESKO and Yummy Sandwich labels. Travelers can find a huge variety of sandwiches, salads, and wraps – all under the kosher supervision of the Star-K. All breads are Pas Yisroel and dairy is Cholov Yisroel.
Fresko / Yummy Sandwich menu items include yogurt parfaits, grilled chicken salad, southern honey BBQ chicken wrap, shaved fresh mozzarella sandwich, tuna salad wrap, tuna fish sandwich, grilled tofu wrap, grilled chicken shawarma wrap, tuna salad on greens, organic quinoa salad, layered Capelli d'Angelo salad, herb grilled chicken sandwich, greek feta wrap, classic egg salad sandwich, fresh roasted turkey sandwich, cajun turkey sandwich and more!
You can find these offering at the following locations on Sunday through Friday (they do not make deliveries on Shabbat, so don't expect to find much on Motzei Shabbat flights):
Newark Liberty International (EWR)
10 locations at EWR sell kosher sandwiches/meals will be CIBO Express bearing the Fresko Green Label and Star K symbol:
Terminal C1
Gate C92 – CIBO Express
Gate C93 – CIBO Express
Gate C73 – CIBO Express
Gate C75 – CIBO Express
The entrance before Gate C70 – CIBO Express
Gate C-71 – Mercato Abruzzo
Terminal C2
Gate C112 – CIBO Express
Gate C101-115 – Vanguard Market
Terminal C3
Gate C132 – CIBO Express
Gate C123 – CIBO Express
Laguardia Airport (LGA)
8 locations at LGA sell kosher sandwiches/meals will be CIBO Express sandwiches bearing the Fresko Green Label and Star K symbol:
Central Terminal B
CIBO Express
Terminal C
Gate C31 – CIBO Express
Inside CIBO Express Food Hall
In Between Gate C-28 and C-29
Gate C-15 – CIBO Express
Across from CRUST near Gate C-24 – CIBO Express
Terminal D
Gate 11 – CIBO Express
CIBO Express Food Hall – CIBO Express
JFK Airport
15 total locations at JFK sell kosher sandwiches/meals, 8 will be CIBO Express sandwiches bearing the Fresko Green Label and Star K symbol (Terminals 2,5, & 8) & 7 will be labeled Yummy Sandwich bearing the Star-K symbol (Terminal 4 only):
Terminal 2
Gate C61 – CIBO Express
Gate C70 – CIBO Express
Between C65 and C66 – CIBO Express
Terminal 4 (look for Yummy Sandwich label)
Peets Coffee – B23
Panopolis A
Panopolis B
Jetbox B20
Jetbox 28
Jetbox Arrivals
Dunkin Food Court
Terminal 5
Opposite Gate 5 – CIBO Express
Gate 9 – CIBO Express
Gate 21 – CIBO Express
CIBO Express Food Hall – In between Gates 7 & 8
Terminal 8
CIBO Express