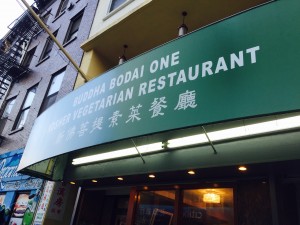 Report & Review by Chef Seth Weg
I was presented with a unique opportunity by Dani Klein (@YeahThatsKosher) to look into a strange oddity on the Lower East Side / Chinatown: two kosher restaurants of the same name, cuisine, hashgacha, and located mere blocks from each other, but with different owners. Dani had noticed a few weeks ago in the back of a prominent NY Jewish newspaper that there were ads right next to each other for restaurants that seemingly looked identical, but their addresses differed. We needed to investigate and I accepted Dani's challenge.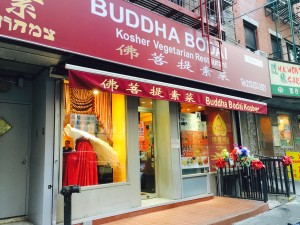 We found the original Buddha Bodai (open since 2004) and a new Buddha Bodai (open since 2015?) and both are serving nearly identical kosher Chinese vegetarian fare – at least based off of their menus. The website for the original Buddha Bodai has a disclaimer on it:
The chefs and servers here at Buddha Bodai have been bringing you delicious Kosher, Vegan, and Buddhist meals since 2004. Please be aware that our establishment and location (5 Mott St.) is one of a kind, and unaffiliated with any other restaurants. Thank you.
As for why there are 2 Buddha Bodai restaurants, that may remain a mystery for a little bit longer. I attempted to ask those that work in both restaurants, but their English is quite poor and I wasn't getting any answers worth reporting here. Let's chalk it up to an argument between owners. (If someone who speaks Chinese can go in and ask, please comment below so we can get more info here)
Either way I wanted to give them both a try and report their differences. I know that Dani has ordered from the original BB multiple times when he used to work downtown and he's had good experiences from their delivery. With fresh eyes, I wanted to try them both and give you a side by side comparison.
Addresses for both restaurants are in the map at the bottom of the article. Both restaurants are under the kosher supervision of Rabbi Israel Steinberg (CupK).
---
In the interest of fairness (and because it was a little closer from where I already was at the time), I thought it would be right to give the original Buddha Bodai home field advantage. As I walk into the restaurant, I notice the restaurant was fairly busy for a Tuesday late afternoon/early evening dinner crowd. I can't exactly call myself an expert on vegetarian Chinese food as I'm more of a carnivore, but I was determined to keep an open mind about this new gastronomical experience. Besides, most people really seemed to be enjoying what they were eating. So I looked at the rather extensive paper to-go menus (as I didn't really have the time to sit and eat two dinners one after the other) and proceeded to order spring rolls, sesame "chicken", and pan-fried dumplings.
After I gave my order, he asked me to leave the restaurant and come back when my order was ready. I found this to be strange, never having been asked to leave a restaurant before while I was waiting for my food, but I took the time to look around the area and wandered into a few of the shops along the street. Approximately, 23 minutes later I head back to the restaurant, and as I approach the counter my food comes out of the kitchen.
With the first dinner in hand, I headed to the new Buddha Bodai which is only a TWO MINUTE (!) walk away from the original. As I entered the restaurant, I noticed this place is very different from the original. It doesn't look much like it would be a sit-down Chinese vegan restaurant from the look of it, but the place in nearly filled to capacity. So, like at the original Buddha Bodai, I approach the counter and place my order, exactly the same things I ordered at the original (so I can make a fair and equal comparison). After I placed my order, I was asked to please sit and was brought a cup of water. This too is a rare experience for me, though a nice one at that. After only 10 or so minutes, my food came out and I was on my way home (nearby in Lower Manhattan) to try all this food.
I have to give equal props to both restaurants for making sure I had utensils, condiments, and napkins.
First, I opened up the food from the original Buddha Bodai. I started with the spring roll. The shell of the wrapping paper on the rolls was nice and crispy but not burned and the under-layer was a bit doughy. The inside wasn't filled with many vegetables and was a little bland though the duck sauce seemed to take care of whatever the spring rolls were lacking in flavor. Next, I tried the pan fried dumplings. The outside was doughy with a little crunch from the small amount of crust from the sauté. The inside had a flavorful mix of vegetables, not too salty and had an all around good taste to them. Finally, I moved onto the sesame chicken. As I started to cut the chicken, I felt it has a very rubbery consistency, so I picked up the whole piece with a fork and try to bite into it. It was like trying to chew on soft rubber with the classic MSG flavor we've all come to associate Chinese food with. Needless to say, I was disappointed with the quality of the vegetarian sesame chicken.
Second, I compared the original with the new Buddha Bodai. Again, I started off with the spring rolls. The wrapper on these spring rolls was a bit thinner and a little more crispy. The inside of these had more vegetables than the original had and definitely had more flavors working together. Moving onto the dumplings, they had a different shape as the original Buddha Bodai's. The dough on these were thinner and more well done than the original Buddha Bodai's, but there were too many different vegetables and spices on the inside. The flavors are all fighting against each other and none of them stand out here. I was a bit apprehensive about trying the sesame chicken again as my first round didn't go exactly as I had planned. This chicken also looks very much like the chicken from the original Buddha Bodai. I cut into this chicken and as I press down I can feel a very different consistency in the "meat" of the sesame chicken, there is some resistance. As I chew down on it, I can taste the veggie chicken and its flavorings and I have to say I was pleasantly surprised. The chicken had more of a bite to it and had more of an actual chicken taste to it.
All-in-all, this was an interesting experience for me. I was pushed out of my culinary comfort zone as a chef and tried some new dishes for the sake of keeping the public informed, so thank you, public. But if I had to choose between which one of these restaurants I would go back to I would have to pick the new Buddha Bodai. The staff was more friendly and welcoming, the food was ready in less time and I was more impressed with the flavors they used for their food.