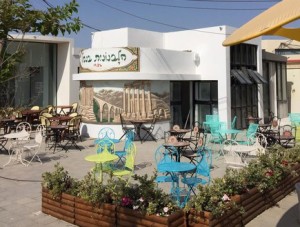 For a while now, there hasn't been many kosher restaurants in the Tel Aviv port. This week that changes.
There is a new Kosher Lebanese-style restaurant opening up in a preserved building that was built in 1936. The restaurant won't be a typical middle eastern style joint, that serves hummus, shwarma and french fries. The owners decided that they will serve authentic Lebanese cuisine, with and ambiance that will go with it as well.
Lebanese at the Port (that's the actual name they will be using) will be open for breakfast and will close late at night (when the last customer leaves – so call ahead!). You can find dishes like fattoush salad – served with fried pita and a lemony vinaigrette, or Maschan – chicken thigh marinated in sumac served on a laffa bread with some really unique side dishes.
Next time you travel to the Tel Aviv port, not only is there another kosher option, you will get an authentic Lebanese experience as well.
Kashrut under the supervision of Rabbanut Tel Aviv.