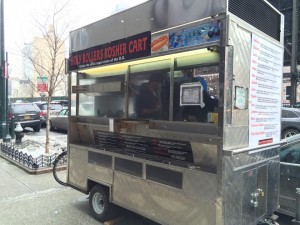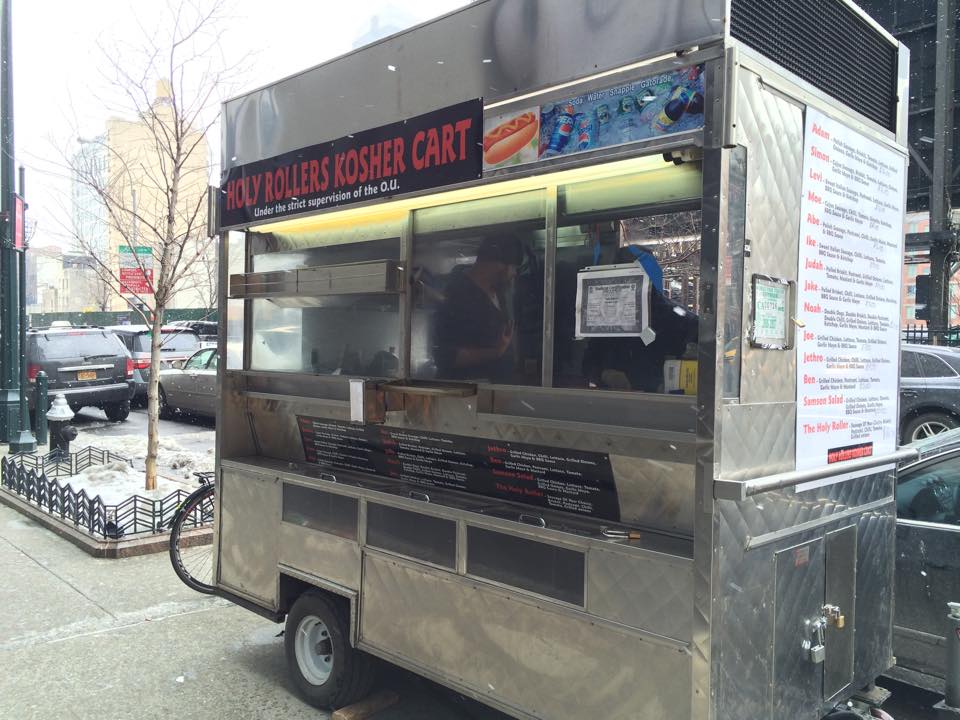 UPDATE: Scroll down for updated pricing.
UPDATE: Click here for our quick (and early) review of Holy Rollers sausages
UPDATE: They have been blocked from their intended location near the Diamond District. Check their posts on their Facebook page for updated location info.
There's a new kosher sausage cart launching in midtown Manhattan today — HOLY ROLLERS — both the first Glatt kosher meat cart and the first kosher sausage cart (or truck).
The main sausages available will be Polish, Cajun, and Sweet Italian, with other menu items available such as Double Dogs, Grilled Chicken, and Pulled Brisket all served inside fresh hoagies.
The menu includes 14 items, which combine a meat choice (listed above) with a combo of toppings, sauces, and veggies that include: chili, pastrami, BBQ sauce, ketchup, garlic mayo, mustard, Sriracha, lettuce, tomato, grilled onions, etc. If you can think of any combination of the above ingredients, they'll make it for you. [Scroll Down for the complete menu options]
The sausages are made by the cart's owners at a location in NJ.
Holy Rollers is Glatt kosher certified under the OU.
Current hours of operation are 10:30am – 5/6pm — but be prepared to find the cart at other locations around the city at night.
The cart will be taking a position on the NW corner of 48th st & 6th Ave. around the corner from the Diamond District during the daytime.
FULL MENU:
Adam – Polish Sausage, Brisket, Tomato, Lettuce, Grilled Onions, Garlic Mayo & Ketchup — $12
Simon – Cajun Sausage, Brisket, Tomato, Lettuce, Onions, Garlic Mayo & BBQ Sauce — $12
Levi – Sweet Italian Sausage, Pastrami, Lettuce, Garlic Mayo, BBQ Sauce & Ketchup — $12
Moe – Cajun Sausage, Chilli, Tomato, Sriracha, Ketchup, BBQ Sauce & Garlic Mayo — $8
Abe – Polish Sausage, Pastrami, Chilli, Garlic Mayo, Mustard & BBQ Sauce — $12
Ike – Sweet Italian Sausage, Chilli, Lettuce, Tomato, BBQ Sauce & Ketchup — $8
Judah – Pulled Brisket, Pastrami, Grilled Onions, Lettuce, Tomato, Mustard & Garlic Mayo — $14
Jake – Pulled Brisket, Chilli, Lettuce, Grilled Onions, Ketchup, BBQ Sauce & Garlic Mayo — $13
Noah – Double Dogs, Double Brisket, Double Pastrami, Double Chilli, Grilled Onions, Lettuce, Tomato, Ketchup, Garlic Mayo, Mustard & BBQ Sauce — $21
Joe – Grilled Chicken, Lettuce, Tomato, Grilled Onions, Garlic Mayo & BBQ Sauce — $7
Jethro – Grilled Chicken, Chilli, Lettuce, Grilled Onions, Garlic Mayo & BBQ Sauce — $9
Ben – Grilled Chicken, Pastrami, Lettuce, Tomato, Garlic Mayo & Mustard — $10
Samson Salad – Grilled Chicken, Lettuce, Tomato, Grilled Onions, Garlic Mayo, BBQ Sauce & Mustard — $9
The Holy Roller – Sausage Of Your Choice, Brisket, Pastrami, Chilli, Tomato, Grilled onions — $15