Sruli Edelman of Izzy's BBQ Addiction has just signed a lease to bring the first ever kosher wood-smoking barbecue restaurant to a real brick and mortar location in the Crown Heights neighborhood of Brooklyn, NY.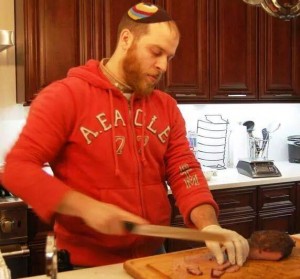 Although the restaurant has yet to be named, we do know that it will seat 25-30 people and will offer real barbecue food with no assistance from gas-powered smokers. Sruli plans to offer locally brewed beer to go with his freshly smoked meat.
Sruli's "addiction" to BBQ came a year ago after meeting Ari White of the Wandering Que (formerly Hakadosh BBQ).
Sruli said:
"I absolutely loved those flavors… I thought, 'This has to become part of my life.' I think that this kind of food is something that is missing from the Jewish cuisine."
The new kosher restaurant is projected to open in 3-4 months.
Source: Great Kosher Restaurants