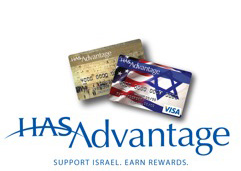 Years ago, at a pro-Israel event in Manhattan (a concert in a park with Israeli bands), before I knew anything about credit cards, credit, points, and miles, I was suckered into signing up for a HAS Advantage Visa card, allowing me to earn points to fly to Israel with El Al. There was a picture of the Kotel on the card so it had to be good. Right?
For those that don't know anything about how credit cards work today, or the types of bonuses and points earnings you're able to get from credit cards today, you're none the wiser. To you, earning 1% back on your purchases for with cash back, or to use with El Al's Matmid program, sounds like a good deal. Well, it's not. It's probably one of the worst deals in the entire credit card space today.
Making matters worse, HAS has recently announced that due to a dispute with El Al, card holders will no longer be able to earn Matmid points with their spending on this card.
The only thing this card has going for it (besides for tugging at your heart strings and love for Israel) is the fact that there's no annual fee. That means you don't have to actually cancel this card (which I do not recommend doing for this or any "free card" you have in your name), but rather I recommend just stop using it, write VOID on the back, and bury it in a closet somewhere. Maybe even chop it up. But don't cancel the card.
WHY should you never use this card again?
Nearly every other credit card on the market gives you a sign up bonus

This card gave you no sign up bonus. Nothing. Below I will recommend a couple cards worth looking into that give you at least $100+ worth of points just for signing up.

Nearly every other credit card on the market gives you better earning potential with your regular spending habits.

1x points / 1% cash back??!!! That is the bare minimum any credit card can offer to you, and nearly every card today offers ways to earn significantly more than that. Today, I am using cards that earn me 5x points on restaurants (this quarter)(CHASE FREEDOM), 6% cash back on groceries & 3% back on gas + dept stores (AMEX BLUE CASH PREFERRED), 5% back on my cable, internet, and phone bills & 5% back at office supply stores(CHASE INK), 2x points on all travel & transportation (including my monthly train passes)(CHASE SAPPHIRE PREFERRED), and more.
The CHASE FREEDOM card has no annual fee (10,000 point sign up bonus), and there is a no annual fee version of the AMEX BLUE CASH PREFERRED EVERYDAY card that earns you 3% cash back on groceries & 2% back on gas & dept stores ($100 cash back signup bonus).
The cards with a fee tend to have somewhat better sign up bonuses and earning potentials, but they are often worth the yearly fee.

(When this was available) Earning El Al's Matmid points are worthless.

OK, that's a bit of an exaggeration, but compared to the vast majority of airline programs in the world, this is a pretty awful program.
According to DansDeals:

El Al has a fairly terrible frequent flyer program.
Points from flights expire after 3 years, redemption rates are pretty awful, and they charge a huge fuel surcharge ($350 in total fees for JFK-TLV) on redemptions to boot.
Adding insult to injury: They also charge $25 to join the program.

Why use a card that ties your rewards with one airline and few partners versus a global airline with many more partners and flexible points like Avios points from British Airways, which you can use on a number of international partner airlines.

Consumer Protection. Period.

Banks that issue their own credit cards are typically the ones responsible for paying off your purchases (whether you pay the credit card company or not). But because of that, they're able to protect you as a consumer when something goes wrong. American Express is the best at protecting their card members in a multitude of ways, which I go into detail on this post for the Starwood American Express card. AMEX has been ranked as the top in customer satisfaction for 7 years running, and it's no wonder why. Chase also does a decent job at protecting their card holders, especially if you have the Sapphire Preferred or INK cards, but still not as good as AMEX's benefits.
Having said all of this, you do not get these protections and benefits from HAS Advantage. There is no "Advantage" to using this card on your purchases.

Donations to Israeli Charities. This was something that set HAS apart. It allowed you automatically set aside your points for charities. Here's the problem:

The same way that you are earning 1% of your spending on this card towards El Al flights, you're also only earning 1% for the charities you want to donate to. With some of the above examples, those cards allow you to earn 2-6% cash back or points depending on what you're spending it on, let alone being more flexible and valuable.
Assuming you used a different credit card and earned greater than 1% back, you can instead use those points yourself make a credit card payment to the Israeli charity of your choice which will:

…be able to donate more because you will be earning more
…be able to make a tax deductible contribution, which HAS points contributions are not (although HAS may get the tax deductible for your earned money)
… be able to earn points/cash back on the tax donation made with a different card

Even in this case, using the HAS card doesn't make sense.
With this useless card in your wallet, now's the time to look into multiple options to replace this one. Here are my favorite 6 cards, all of which are far superior to the HAS Advantage. Would love your comments below on your preferred cards instead of the HAS.