This post is geared toward those who are looking to get started at earning points / miles using credit cards to get you there. Disclosure: On some of the cards recommended, we earn credit from the issuing banks.
UPDATE: Check out this credit card where you can earn 60,000 Chase Ultimate Reward points – worth at least $750+ (Sign up before 5/14/2016)
Earlier this month I attended a Dans Deals seminar. Many of you are familiar with that site and the invaluable information that site contains, which I've been reading for years. Understanding that, there were many individuals, young and old, who I believe would benefit from a more simplistic understanding of the "credit card game" – namely the use of credit cards as a means to build up points for travel or cash redemptions, and have asked me to put together something to explain it.
I'm going to do my best to introduce you all to the subject here. If you want a deeper dive I recommend browsing through DansDeals.com, his forums (they're quite complex but in-depth), as well as other sites like ThePointsGuy.com, MileValue.com, MillionMileSecrets.com, and others. (Those sites sometimes are duplicative, but I've been making sure to read up heavily on this subject over the last few years to ensure that I have a well rounded understanding of the subject.)
First, to understand what factors are at play when you want to play the "credit card game", you'll need to understand the following:
Your credit: Having your credit in good standing is essential to participating. Having said that, there are ways that piggy backing on your significant other's or parent's credit can improve your credit to allow you to participate in the future. Check your credit scores periodically, but definitely up front to understand whether you have a good chance at being accepted for the card(s) you're applying for.

Applying for cards: Every time you apply for a card, your credit takes a small 3-5 point hit. The good news here is that there are multiple factors that comprise your credit score so this hit is negligible in the long run. What many people do is apply for multiple cards from the same bank on the same day so that their credit is only dinged once, and only to one of the 3 credit reporting agencies (depending on the bank). [Read up on the "3BM" method on DansDeals.]
Your debt: If you are in credit card debt, or other forms of unhealthy debt, this is something you shouldn't participate in until that is resolved. I have multiple credit cards open at any given time and the bills are always paid in full each month. If you're unable to do this at this time, playing this "game" will not be beneficial for you, it will be . Additionally, if having credit cards in your possession is a financial disaster waiting to happen, stay away. You need to be diligent about what you're spending and where.
Your time: It takes some of your personal time to manage your credit card accounts and make sure you're using them each appropriately, paying them all off on time, and downgrading/closing accounts in the appropriate time frame. Time may be spent in dealing with the banks/credit card companies.
Your wallet: Part of this "game" is knowing what cards to use when and where, what cards to sign up for for the right sign up bonus, and knowing when it's better to use cash (some will argue 'never'!).

Differences between the Cards, Banks, and Points systems: Nearly all cards have different perks / pitfalls. Same for the various card issuing banks, some which I avoid entirely. Point systems are typically tied to which bank issued the card, unless it's a co-branded card which typically has a proprietary point system associated with the brand on that card (ex: American Express Starwood Preferred Guest credit card earns "Starpoints" not American Express Membership Rewards points). It's important to have a proper understanding of what card, bank, and points system you're getting into with each card, and how they can be best used.
Now that I've established what you need to prime yourself with to get started, here are the top SIX cards I've been recommending to "credit card newbies". Obviously, your life situation and spending habits may differ from mine so you don't have to heed my advice verbatim. Use your judgement and understand what the potential negative effects are if you can't pay your bills.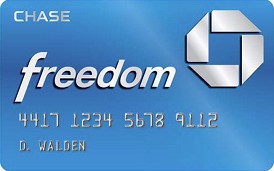 (In no particular order)
Chase Freedom: This is a card that I've blogged about previously because it's a no-brainer. The card is free, forever. What makes this card valuable is what Chase calls "category spending". Every quarter, Chase offers Freedom card holders a few different types of merchants where purchases earn 5x points on up to $1500 in purchases in that category. Typically, a signup bonus for the Freedom is 10,000 points, but sometimes it is more. This card earns Ultimate Rewards (UR) points. While this card gives you great opportunities to earn points, the points become even more flexible when paired with #2 or #3 below. If you have a Chase checking account this card becomes more valuable as well. [Read more on the benefits of this card here.] [CLICK TO APPLY]
Chase Sapphire Preferred: This is a premier personal card from Chase that offers a higher level of customer service and protections (although not as good as American Express's) and earning potential. Earn 2x points at all restaurants in the U.S. always. Earn 2x points on all travel (hotel, flight, car rental, cruise, etc) & transportation (train tickets, subway, bus, ferry, and taxi fares) purchases. Sign up bonuses for the card are typically 40,000 UR points. Additionally, Chase will give you a 7% dividend on all the points you earned during the year (minus any sign up bonuses) each February for the previous year's earnings. That means you're actually earning 2.14 cents per dollar spent at restaurants and on travel. They run a special for the first Friday of every month: 3x points on all restaurants. The card also has no Foreign Transaction Fees (FTFs), Global acceptance with Chip & Signature, and 1:1 point transfers to a large number of partner airlines/hotels/etc. If you have both the Freedom and the Sapphire Preferred, you can merge your points together and transfer them to your preferred airline or hotel chain. (The Freedom alone does not have this ability). The card is free for the first year, and $95 yearly thereafter. [Read more on the benefits of this card here.] [CLICK TO APPLY]
Chase INK Plus: this is a business card that also works well paired with the Chase Freedom card. The benefits of the card are the few places where you can earn multiple points on certain purchases: you can earn 5X points on all purchases made at telecom/cable companies (AT&T, Verizon, Cablevision, etc.) on your home phone, internet, cable, cellular, etc. and at all office supply stores (Staples, Office Max, etc.). 2x points at gas stations and hotels. Earn up to 50,000 points for signing up after spending $5k within the first 3 months. All the other benefits are similar to the Chase Sapphire Preferred mentioned above (no FTFs, points transfers, etc.). The card is free for the first year, and $95 yearly thereafter. [The Ink BOLD is a Charge card – must be paid that month. The Ink Plus is a Credit card – which operates the same as all the other cards listed here. Both cards have the same benefits, but it is possible to get both.] [CLICK TO APPLY]
American Express Starwood Preferred Guest [Personal] & [Business]: This is my favorite credit card to use, period. There are 2 versions of this card, personal and business, and I have both. Earn up to 25,000 points after signing up and spending $3k within the first 3 months. Points earned are called Starpoints, and they can be mainly used in 2 ways: 1) at any Starwood hotel around the world with no blackout dates including any Sheraton hotel, Westin, W, Le Meridien, St. Regis, Aloft, and others; and 2) Starpoints can be transferred to ~30 different airlines and receive a 5k mile bonus for every 20k points transferred. That's a 25% bonus just for transferring your points, making these points so flexible and valuable, you'll end up wanting to put a good chunk of your spending on this card. The card is free for the first year, and $95 yearly thereafter. As with all AMEX cards, the benefits of the card go above and beyond just the points earnings. [Read more on the benefits of this card here.] [CLICK TO APPLY (Personal)] [CLICK TO APPLY (Business)]
American Express Blue Cash Preferred: This is the one card I will recommend that does not earn travel points. This is strictly a cash-back card. Why do I use it? The card nets you

6% cash back

at all U.S. supermarkets for the first $6,000 you spend each year, and 3% cash back at all U.S. gas stations and department stores. Those are pretty amazing cash back options. I only use this card at supermarkets and gas stations. This card has a $75 yearly fee. If you only use it at supermarkets, your break even point is $1250 spent at supermarkets ($1250 * 0.06 = $75). Additionally, you'll earn 150 Reward Dollars after you use your new Card to make $1,000 in purchases within the first 3 months I recommend this card for families that do a lot of grocery shopping, especially those that don't live in the city and also use a car to get around. Technically, my wife and I each have one because we definitely spend more than $6000 on groceries during a calendar year. It is totally worthwhile to each have one if that's the case in your family too. [CLICK TO APPLY]
Barclaycard Arrival Plus: For those that want to take things slow, this could be a great card for beginners. Earn 2x on all travel & dining purchases and up to 40k points after signing up and spending $3k within the first 90 days. The points for this card are not transferable like the Chase UR points or like Starpoints. Having said that, these points are quite valuable if you use the card to book travel. Get 10% miles back when you redeem for travel (i.e. redeem 25,000 miles for travel and get 2,500 miles back). After booking a flight or hotel room, etc. you can just call Barclay and have them credit your account using the points you've accrued. This card also has no FTFs, making it a great card to use overseas. The $89 annual fee is waived for the first year.

Note: The original Barclaycard Arrival card is no longer available.
These are obviously just a sampling of cards that credit card experts use to build up their points / miles bonuses to use for domestic and international travel as well as to protect themselves on purchases in a way that debit cards and cash cannot.
Let me know what you think of this post and if you have any comments or questions by leaving a comment below.
Note: Before applying for credit cards, consider checking your credit score using CreditSesame.com.
Note: All of the above cards are for Americans, or people with a Social Security number with credit history in the US. 
Disclosure: For some of the cards mentioned above, I may earn a referral credit from the issuing credit card company. [Read full disclosures here]