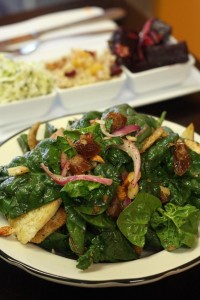 Windsor Terrace, a quaint Brooklyn neighborhood in between Park Slope and Crown Heights, is now home to a new Kosher restaurant–Remy's Vegetarian Cuisine.
Originally, owners Julie and Avi Atiae kept the menu to simple vegetarian fare, but now under their new Israeli-Yemenite chef, Ori Guri, the menu has gotten a bit more creative. Menu items range from quiches to paninis to bourekas, and of course, salads.
Remy's is under the kashrus supervison of Rabbi Shlomo Koenig of the Beis Din Tzedek Yoka.
Source: Great Kosher Restaurants