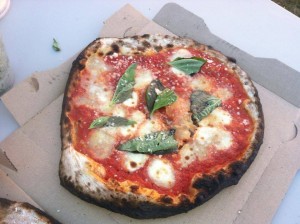 The Bay Area kosher catering company, Epic Bites (staffed by fellow Jewish blogger Heshy Fried), is hosting a one-day kosher pizza pop-up in Berkeley, CA this Sunday (March 30th, 2014) from 4-8pm at Congregation Beth Israel.
Expect a sit down, cafeteria style atmosphere at the shul. No tickets required, just show up, but expect a wait. The catering company's last pop-up sold out in advance within 2 days.
Understanding the dearth of kosher options in the region, local kosher observant Jews should be ecstatic.
The menu will include:
12 inch pizza pies
Stromboli
Antipasta
Salad
Desserts (made with REAL butter)
Arancini
Their Signature Fried Mac and Cheese
and Lots of Marinara
Additionally, they will have a separate Cholov Yisroel oven for those who request CY food.

View Congregation Beth Israel in a larger map