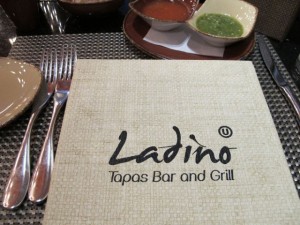 Update:

One of our readers has been in touch with the owners of Ladino and they confirmed the permanent closure of Ladino.
According to a post by Great Kosher Restaurants on Facebook, Ladino Tapas Bar & Grill, the kosher Spanish-style eatery in Midtown West, is "closed for renovations until May". However, after further investigation, would a restaurant that plans on reopening in less than 2 months disconnect their phone and website?
The Ladino website (LadinoGrill.com) is no longer working. Their phone number is disconnected.


That does not bode well for anyone wishing to eat there in the near future.
Having said that, Ladino has been disappointing, so it's not surprising that it would be closing. The food and flavors were lacking, as was their service. Not every kosher restaurant venture is successful. We're not saying that Ladino is 100% definitively closed, but it seems likely.
Click here to find other kosher restaurants in Midtown Manhattan.
H/T Jack Atzmon