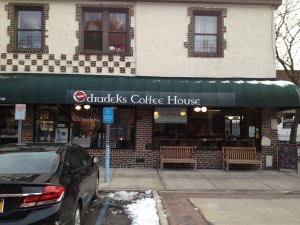 One Saturday night this past fall, my wife and I wanted a night out that wasn't expensive, just enjoyable. She had heard about this cute kosher cafe in Queens that wasn't typical, and we decided to check it out.
Odradeks Coffee House and Wine Bar is located in Kew Gardens, literally in the LIRR train station, on the westbound (NYC bound) side of the station. It's a two minute drive from the hustle and bustle of Forest Hills. Inside it's a really quaint, homey cafe with long shared tables and a few nooks with oversized chairs. We loved the space and felt that it was a perfect place to chill, study, bring a group of friends, or just have a low-key coffee date.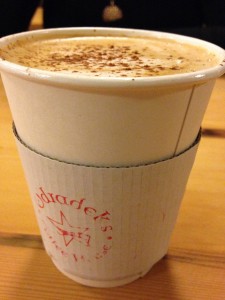 In its kitchen, the cafe has a pastry chef that creates an array of pastry treats on display up front, as well as prepares meals including personal pizzas, hot sandwiches, wraps, and salads: all at nice sized portions.
We tried the Pesto pizza (Pesto, Grilled Red Pepper Onions, Mozzarella) and the Blanca pizza (Ricotta, Mozzarella, Grilled mushrooms), each of us ordered a latte (soy for me, whole milk for her), and we shared a bread pudding for dessert.
All were delicious and plentiful. Besides typical cafe type menu items, Odradeks has an interesting beer menu available (none that I've ever heard of), as well as a selection of 4 kosher wines: Baron Herzog Late Harvest Zinfandel, Binyamina Reserve Carignan, Goose Bay Sauvignan Blanc, and Val D'oca Prosecco.
The service behind the counter was friendly and attentive, but it's important to note that this is too casual a place to expect waiter service (or even your own table) – but that's what gives it its charm.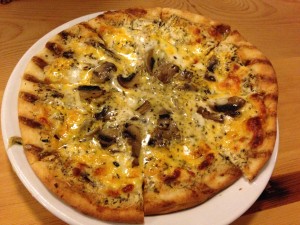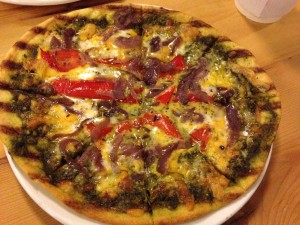 I was surprised to learn about a place that was open for nearly 2 years, and yet remained a hidden gem amongst the kosher community. While I partially want to keep this place a secret to myself, I'm more than happy to share it with the community so we can hopefully have additional similar places open up in the near future.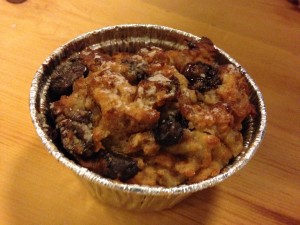 Odradeks is under the kosher supervision of the Vaad Harabonim of Queens.