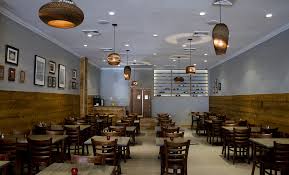 Marani is a new kosher Georgian restaurant that is only a few months old located in Rego Park, Queens. For all the Kosher foodies out there looking to try something new, you can now add Georgian food on to your to-do lists!
While Marani is mainly a meat restaurant, they also have an open dairy kitchen in the basement where they serve Khachapuri, a traditional Georgian dish of cheese-filled bread. Upstairs you can dine on an array of classic Georgian food such as Chaxoxbili (beef braised in tomato sauce), Satsivi (chicken in walnut sauce), a smoked fish platter of smoked salmon, sea bass, semga and white fish, and many different choices of kebabs.
This is definitely a unique twist to the New York kosher restaurant scene, and different from the typical burger/schnitzel place or upscale steak house.
Marani is under the kashrus supervision of the SKO-USA (Rabbi Aharon Chein.)
Source: Great Kosher Restaurants