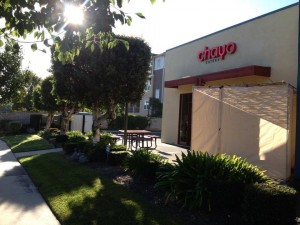 Chayo Eatery is a combination  kosher pizza place mixed with a vegetarian restaurant that opened in August 2013. Servicing the kosher and non-kosher eaters of Torrance, a city in the South Bay of California, Chayo's aims to appeal to anyone seeking healthy yet tasty food.
"We're a kosher restaurant for non-kosher-eating people," said co-founder Abe Chayo, whose restaurant is located on a strip among many other fast food places. "If the non-kosher crowd likes our food, the kosher crowd will follow, too." And as he hoped, Chayo has been getting very positive reviews on Yelp from Jews and non-Jews alike!
Some delicious sounding menu items include freshly baked ciabatta bread, "finger-lickin' rosemary fries," California grilled cheese, and homemade salad dressings. Chayo's also does local catering to schools in the area. Click here for their menu.
Sounds pretty delicious to us! Make sure to check them out next time you're in the area and comment below with how you liked it!
Source: Daily Breeze