Cofix, a new discount coffee chain that has proven successful in Tel Aviv, is planning to open 50 more branches within the
next 2 years, potentially 300 thereafter across Israel! The first 5, set to open in the next few months, will be located in Rishon L'Tzion, Givatayim, Netanya, and with 3 open(ing) in Tel Aviv already.
What makes Cofix so popular is that everything in the store–coffee, pastries, sandwiches, juice, everything!– is only 5₪, which comes out to around $1.50. In a coffee shop like Aroma, another popular Israeli chain, an iced coffee can easily cost 15 or even 20₪! That's 3-4x the price! And a sandwich can easily cost between 20-30₪, which is 6x the price of a 5₪ Cofix sandwich!
As a result of Cofix's success, other coffee shops in areas surrounding their current locations have cut their prices in an effort to compete. The chain's management stated that since Cofix opened 4 months ago, they have sold nearly 150,000 items in the first 2 months! That's a whole lotta coffee!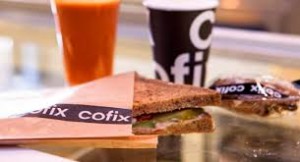 Cofix is under the hashgacha of each city's local Rabbanut.
Sources: Israel National News & Israel21c