A few of weeks ago, Abigael's debuted the grand opening of their new Kosher concession stand at the Barclays Center in Brooklyn, which is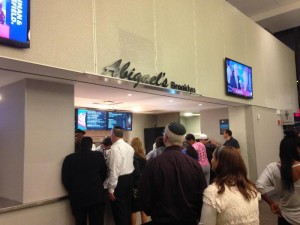 pretty exciting for any Brooklyn Nets fan, or anyone attending any concert or event there. The stand is open on the second floor and in the Calvin Klein dining area (exclusive to season ticket holders), where there is sushi and hors d'oeuvres, among many other tasty options. The regular concession stand on the second floor has brisket, egg rolls, burgers, nachos, chili, and more.
Abigael's also offers catering in the Barclay's Suites (for Suite holders).
Kosher menu items should be pre-ordered by calling the Barclay's or a ticket representative.
We imagine that should this arrangement continue, it will also be a boon to kosher observant New York Islanders fans as they make the move to the Barclays Center in 2014!
Don't forget your Brooklyn Nets jersey
!