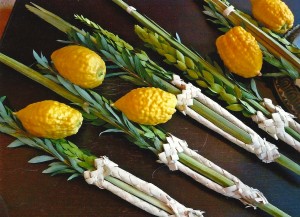 From the JTA:  U.S. authorities released travel guidelines for Sukkot.
"TSA's screening procedures do not prohibit the carrying of the four plants used during Sukkot – a palm branch (lulav), myrtle twigs (hadasim), willow twigs (aravot), and a citron (etrog) – in airports, through or security checkpoints, or on airplanes," the Transportation Security Administration said in a statement, prior to this year's Sukkot holiday, Sept. 18-25.
The TSA notice said, however, that all passengers undergo security screening at checkpoints and that the U.S. Customs and Border Protection has a number of restrictions subject to inspection.
"Travelers will be asked to open the container with the ethrog and unwrap it," its advisory stated. "The agriculture specialist will inspect the ethrog. If either insect stings or pests are found, the ethrog will be prohibited from entering the United States. If neither is found, the traveler will be allowed to rewrap and re-box the ethrog for entry into the United States."
If any sign of pests or disease exist on the twigs of willow from Europe it  will mean confiscation of the product.
In a press statement noting the allowances, Rabbi Levi Shemtov, who directs American Friends of Lubavitch, also urged observant Jews to cooperate with airline staff and authorities, for instance when praying aboard aircraft.
"Particularly, one should let flight attendants know if they will be davening in flight BEFORE they begin, and understand the implications, as well as potential prosecution, for ignoring requests to sit down when requested, etc.," said Shemtov, who consulted with Rabbi Abba Cohen, the director of the Washington office for Agudath Israel of America, in setting out the guidelines. "For example, flight attendants do not usually understand 'nu,' 'uh,' and hand signals, etc. especially when you are already in tallis and tefillin."
"We in the Jewish community are fortunate to live with an unprecedented level of personal liberty," he said. "I hope everyone will appreciate that cooperation with authorities that are so sympathetic to our traditions is the least we can do in return."
Image from rabbielihu.com