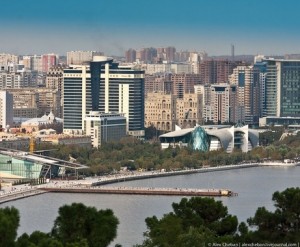 The first kosher restaurant ever in Azerbaijan is coming to Baku! The city has allocated land for the construction of a Jewish cultural center and with it, the Azeri capital's first kosher restaurant.
The Mountain Jews, one of Azerbaijan's 3 different groups of Jews, intends to build a three-story cultural center with an adjacent restaurant 600 square-yards big. The creation of such a complex will serve kosher visitors to Baku, as it has been difficult to obtain kosher food there thus far. Rabbi Shneor Segal, chief envoy to Azerbaijan of Chabad, confirmed that currently there are no strictly kosher restaurants in Baku. Chabad is also planning to open a cultural center in Baku by 2016.
We do not know the exact location of the restaurant yet, but will update this post when it is determined.
For those of you heading that way, you will soon be able to dine kosher worry-free in Baku, Azerbaijan!
Baku is home to approximately 15,000 Jews.
Source: JTA