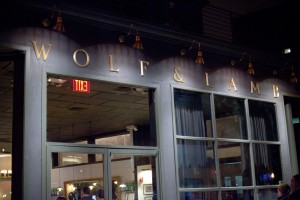 For those of you who have attended The Hester before, you know this is going to be different and equally awesome.
Tomorrow night, Wednesday, May 22nd – The Hester is hosting it's first pop-up event – a kosher night out complete with live music entertainment, and a unique menu prepared by Kate Hester with the chefs and staff at Wolf & Lamb Brooklyn. Doors open at 8pm. Event ends at 11pm.
CLICK HERE TO PURCHASE TICKETS
For those of you not familiar with The Hester, no experience is the same. Thus far, Hester's events have been run approximately once a month out of a Victorian style home in the Ditmas Park area of Brooklyn, near Brooklyn College. Think of it as a speakeasy, complete with an array of bands, and a custom menu for each event – prepared by Kate Hester (aka Itta Werdinger Roth), who prepares unique dishes not normally found on the menu of any local kosher eatery. Click here to read a review of one of the previous Hester events.
All of the previous events have been dairy / pareve. This event is the first fleishig (meat) event – thus it's run in conjunction with the beautiful steakhouse, Wolf & Lamb, on the corner of Coney Island Ave & Ave M.
To attend & eat, you must purchase tickets in advance: $36 (a steal considering the amount of awesome food and music you'll experience).
SAMPLE MENU for the event:
Lamb Merguez Meatballs
P.L.T (Crispy pastrami – lettuce – tomato on brioche)
Fried Southern Pickle & fresh green spicy dip
Root Vegetable Fries tossed in fresh herbs
Tartare on crostini
There will be a cash bar as well with Hester tainted fun wine cocktails, fresh herb based lemonades, and a mildly decent selection of micro-brewed local beers.
Music: enjoy a unique collaboration between jazz vocalist Noam Sendor and blues guitarist Noah Lubin, as well as special guests on saxophone & upright bass.
CLICK HERE TO PURCHASE TICKETS
View Larger Map