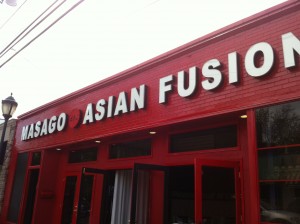 With the recent closings of Cafe Sapore, Kind David Deli, Sabra Pizza, and Off the Grill, it was only a matter of time before their shoes would be filled. While the locations once held by King David & Off the Grill are still empty (and we're hoping kosher restaurants will take their places), Cafe Sapore and Sabra Pizza have already been replaced.
The former has been replaced by Masago Asian Fusion, a beautiful Asian inspired restaurant on Broadway, which stands out on the street in its red paint and decor. They have just opened their doors this past week.
The latter is being supplanted by another pizza place named "Pizza'le". The restaurant is currently under construction and we'll be posting more details as they are made available.
Fish Plate also just opened this past week. It's claiming to be a California-style fish restaurant with a wide range of fish grilled, broiled or fried at extremely affordable prices between $10-$15.
Also opening up next to each other on Rockaway Turnpike: Giant Bagel (replacing Bagel Island), and Ahuva's Grill Express, an offshoot of the Israeli style restaurant in Hewlett (read our review here).

View new 5 towns in a larger map