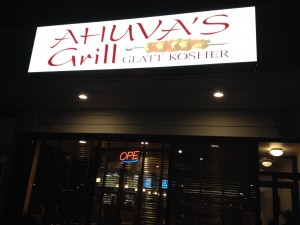 On Monday night, my wife and I tried the brand new Ahuva's Grill in Hewlett (5 Towns) which just opened last week in the Peninsula Shopping Center, a few stores down from Bagel Boss.
Upon entering we were greeted by the friendly young wait staff. The restaurant is a casual dining atmosphere, with many Israeli diners, having conversations at the tables in the front and back. The place was clean and modern.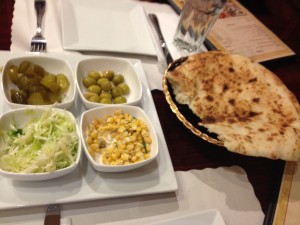 Within a minute of sitting down at our table, the waiters brought out 4 mini salads (or salatim since it was Israeli), including corn + dill, Israeli pickles, olives, and a type of slaw, as well as a large, warm, freshly baked laffa bread. We were told that Ahuva, the restaurant's owner, makes most of the items on the menu from scratch on her own, each morning. Her son, Avi, made sure that we were taken care of and happy with everything during our visit. (For any kosher restaurant, this place had great service … For an Israeli-style restaurant, it had amazing service!)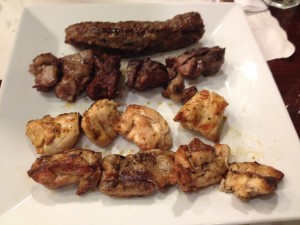 To get a true flavor of the place, we decided to order the Mixed Grill plate, which was served with 2 sides. The plate included kufta kabob, steak, chicken, and baby chicken, all were "al ha-esh" (literally meaning "on the fire") but really meaning on the grill. While I'm personally not a fan of kufta in general, the kufta meat was sensational – extremely well seasoned and moist. The steak was delicious as well. Between the chicken and baby chicken, the baby chicken won hands down, both tasty and moist, and I would order that again in a heart beat. The chicken on the other hand, had a decent flavor, but was a bit too dry.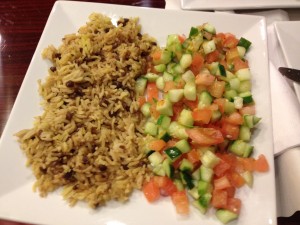 Our sides, Israeli salad and Mejadarra (Rice with Lentils), came on a massive plate along with our shared main dish with a side of pita bread (which could have been fresher/hotter but still good). The Mejadarra was really tasty.
They are Glatt Kosher under the Vaad Hakashrus of the Five Towns and Far Rockaway.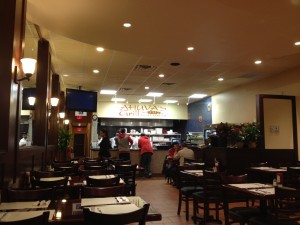 Overall, we had a very pleasant experience between the service and the food. The prices are also very fair and affordable for a family style restaurant. We definitely recommend dining at Ahuva's Grill. We will definitely be back soon.
View Larger Map